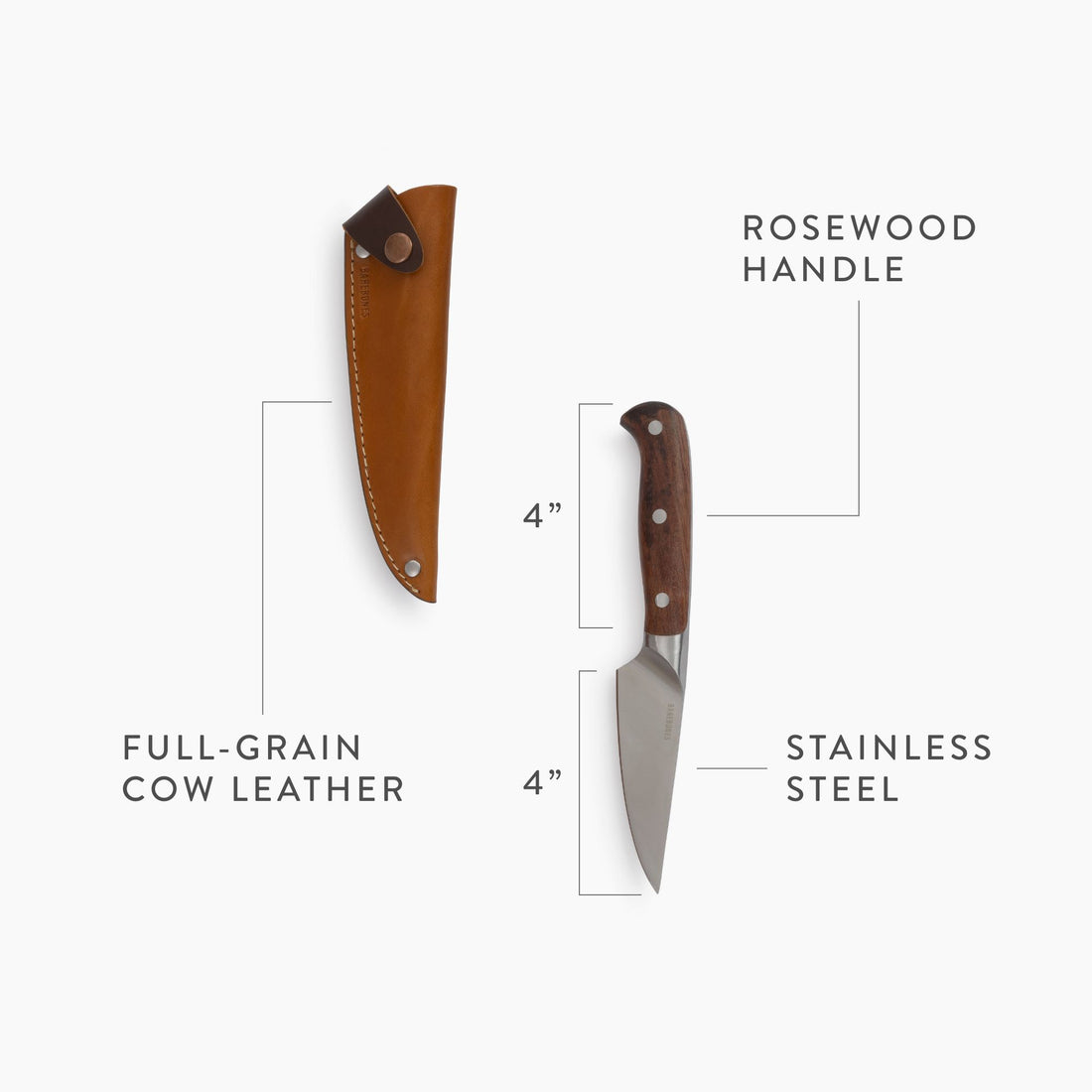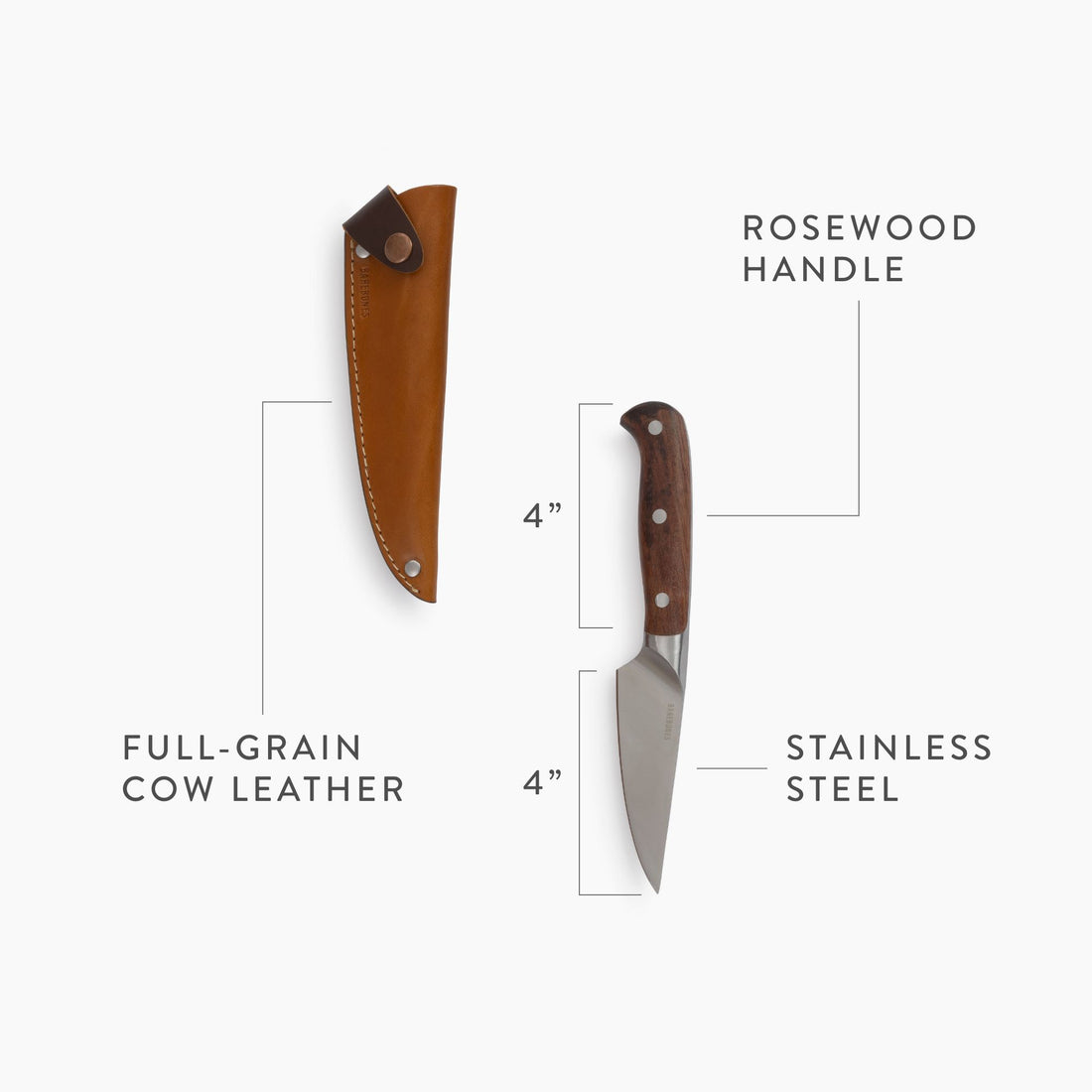 Simple, sharp, and precise. A culinary knife fit for the rugged outdoors.
Ideal for intricate cutting, mincing, dicing, and peeling, the Wilderness Paring Knife is a crucial camp or picnic knife to add to your collection. Peel an apple during a break on a hike or finely mince garlic to start a fragrant meal in your cast iron. Made with Aus 8 stainless steel, the 4-inch blade is easy to resharpen and maintain, holds its edge longer, and is resistant to chips and corrosion. Full Tang design allows easy control and versatility, while the thicker spine is ideal for all-purpose cutting needs. Durable, weighed composite Rosewood handle offers a beautiful aesthetic with a comfortable grip. Included full-grain cow leather sheath weathers real-world use while protecting the blade from dulling.
• Ideal for cutting, mincing, dicing, and peeling
• Easy to maintain and resharpen
• 4" Full tang Aus 8 stainless steel blade
• 4" ergonomic rosewood handle
• Indoor/outdoor use
• Included full-grain cow leather sheath with steel belt clip
Items Included:
1 Wilderness Paring Knife
1 Full-grain cow leather sheath

Materials:
Aus 8 Steel
Rosewood composite
Full-grain cow leather

Dimensions
In sheath: 9" x 1.75" x 1.5" | 0.50 lbs
Knife: 8" x 1.25" x 0.75" | 0.40 lbs
Sheath: 6.75" x 1.75" x 1.5" | 0.10 lbs

SKU:
CKW-108

Designed in Utah | Made in China
As a Certified B Corporation, we ensure that our commitment to safe, ethical, and sustainable practices is upheld by each company and artisan that touches our products worldwide, without exception.
Cleaning
Wash knife by hand with dish soap and water to prevent the spread of food-borne bacteria. Wipe clean of dirt, water, and fingerprints regularly. Allow to completely dry. Store in a cool, dry place. Note: Not dishwasher safe. Extended submersion in liquid may result in discoloration or damage to the handle.

Rosewood Handle Care
If the handle becomes dry, apply a light coating of mineral oil or wood wax. Buff out handle to seal and protect wood. Repeat as needed. Drier climates may require increased care.
We Stand Behind Our Products
Barebones stands behind the quality of all of our products. Each item we make is meticulously thought out in-house by our team of passionate designers. We sell these products because we love them, we use them, and we want you to enjoy them too. They are meant to elevate your outdoor experience and withstand all normal rugged wear and tear.

We also consciously work with manufacturers that exceed our standards for excellence and safety. If you are not 100% satisfied with your order you are always welcome to use our 30 day return policy or let us know how we can make them better.