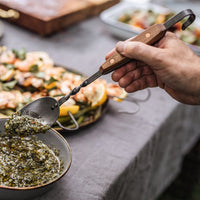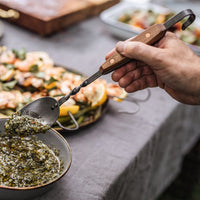 All-In-One Cast Iron Grill Bundle
Grill on the go? You bet. This package features everything you need to make delicious meals at camp, at the park, by the lake, & anywhere else you set off to. The star of the show is our All-In-One Grill. The innovative construction provides maximum versatility so you can explore new cuisines without carrying extra equipment. A cast iron base and domed lid, grill grate, baking steel, tripod stand, and coal tray combine in countless configurations to expand your outdoor dining options. The best part? It travels well and stores compactly. We've added our favorite grill essentials to this package, so you can get robust results with minimal accessories. Hold food securely in place for that flawless cut or carve with the Carving Fork and sip, taste, and stir with the Classic Chef Spoon. Ready to serve your delicious meal? Grab your new genuine suede leather hot pad. Double insulation prevents heat passage to wooden tables, countertops, and, most importantly, your hands.
All-In-One Cast Iron Grill
• Solid, durable cast iron construction
• Cast iron body is both cooking surface and grill base
• Compatible with open fire and coals
• Works with direct and indirect heat
• Grate included for grilling and steaming
• Baking steel replaces griddle and skillet
• Adjustable charcoal tray with wind guard
• Use with or without tripod stand
• Tripod stand works with grill grate
• Accessories fit inside for easy storage
• Easy-carry side handles
• Simple care and cleaning
• Pre-seasoned with sunflower oil

Cowboy Grill Carving Fork & Spoon
• Hand-tooled and forged elements
• Blackened stainless steel with antiqued finish
• Natural walnut handle
• Designed with direct input from Barebones' open-fire chef partners

Suede Leather Hot Pad
• Heat-resistant protection, up to 572°F
• Made from authentic suede cow leather
• Included 1.75" leather loop for hanging
• Handmade by local artisans in Pakistan
Items Included:
1 All-In-One Cast Iron Grill (Wok base, domed lid, grill grate, baking steel/griddle, tray lifter, tripod stand, adjustable coal tray, wind guard, belt)

1 Cowboy Grill Carving Fork
1 Cowboy Grill Spoon
1 Suede Leather Hot Pad - Terracotta

Materials:
All-In-One Cast Iron Grill
Materials:
HT150 Iron, Stainless Steel, Aspen Wood Handle (Lid Lifter), Polyester Strap
Made in China

Dimensions:
15" x 13" x 19"
25.2 lbs
4 quart boiling capacity

Cowboy Grill Carving Fork
Materials:
430 Stainless Steel Fork, 2Cr14 Stainless Steel Shaft, Walnut Handle, Copper
Made in China

Dimensions:
13.5" x 1.5" x 1.5"
0.3 lbs

Cowboy Grill Chef Spoon
Materials:
430 Stainless Steel Spoon, 2Cr14 Stainless Steel Shaft, Walnut Handle, Copper
Made in China

Dimensions:
12.5" x 2.5" x 1.5"
0.35 lbs

Suede Leather Hot Pad
Materials:
100% Cow Leather, Polyester thread
Made in Pakistan

Dimensions:
7.375" x 7.375"
0.30 lbs

As a Certified B Corporation, we ensure that our commitment to safe, ethical, and sustainable practices is upheld by each company and artisan that touches our products worldwide, without exception.
How to reseason your cast iron

1. Scrub the cast iron clean using a cleaning mesh or a stiff brush.
2. Preheat your oven to 300°F (150°C).
3. Choose a cooking oil with a high smoke point, such as Sunflower or Grapeseed oil.
4. Apply a small amount of oil at a time using a paper towel to rub it into the interior of the cast iron, including the walls. Cast iron is porous, so you should be able to rub quite a bit of oil into the surface without excess oil. Repeat until the skillet is well-oiled, but not dripping.
5. Place the cast iron in the oven for 10 minutes, then carefully remove it and wipe away any excess oil on the surface.
6. Increase the oven temperature to 400°F (205°C).
7. Bake the cast iron for 1 hour, then turn off the oven and allow the cast iron to cool in the oven.
8. Once the cast iron is cool, remove it from the oven and wipe away any remaining oil with a paper towel or cloth.

Your cast iron is now seasoned and ready to use.
Repeat this process periodically to maintain the seasoning on your cast iron.
Q: Can I store my Barebones Products outside for extended periods of time?
A: Barebones products are not meant to be stored outside for long periods of time. Extended exposure to wet conditions may cause rust and unnecessary wear and tear. We recommend storing your products indoors after use to help them last as long as possible and to avoid the need to purchase a replacement.
We Stand Behind Our Products
Barebones stands behind the quality of all of our products. Each item we make is meticulously thought out in-house by our team of passionate designers. We sell these products because we love them, we use them, and we want you to enjoy them too. They are meant to elevate your outdoor experience and withstand all normal rugged wear and tear.

We also consciously work with manufacturers that exceed our standards for excellence and safety. If you are not 100% satisfied with your order you are always welcome to use our 30 day return policy or let us know how we can make them better.