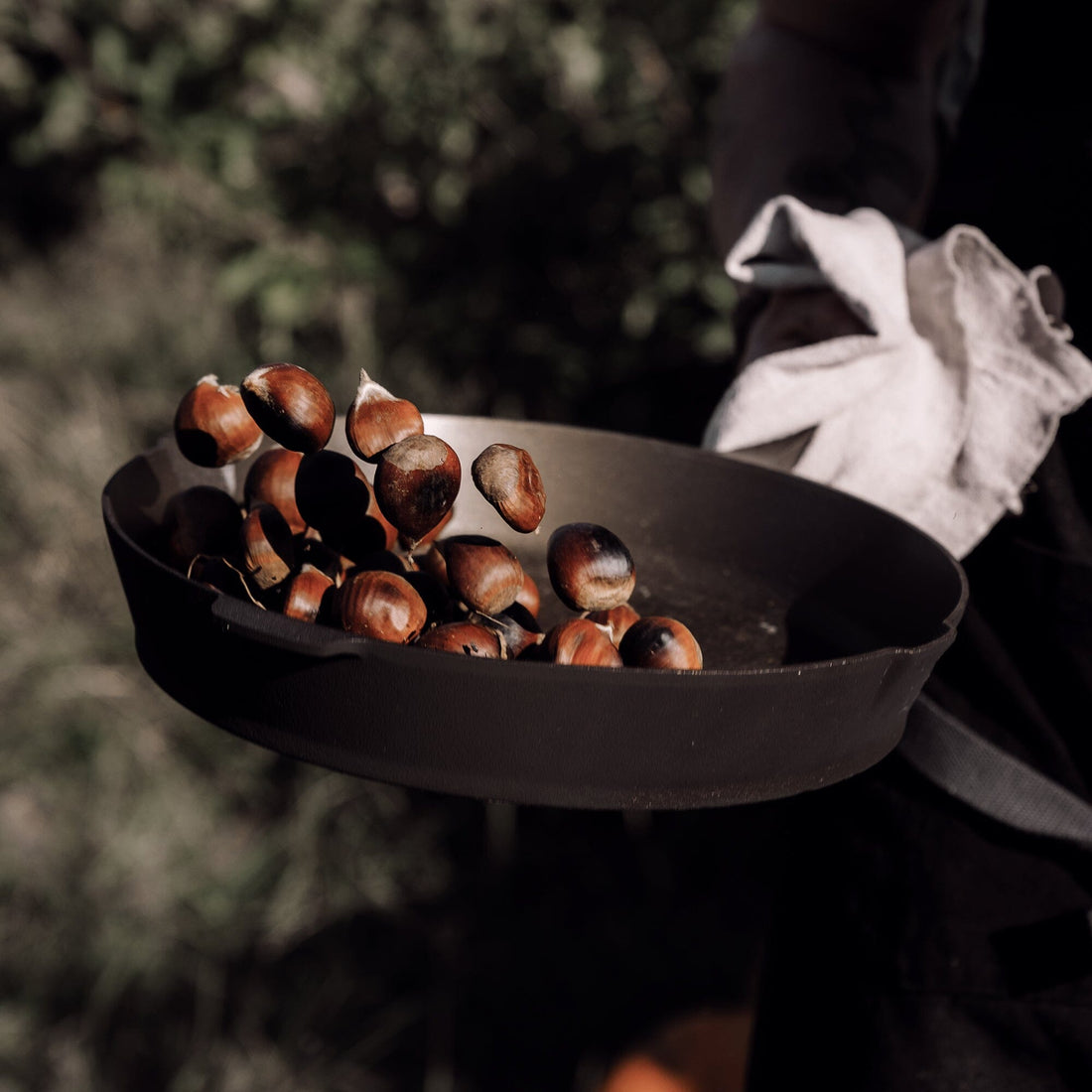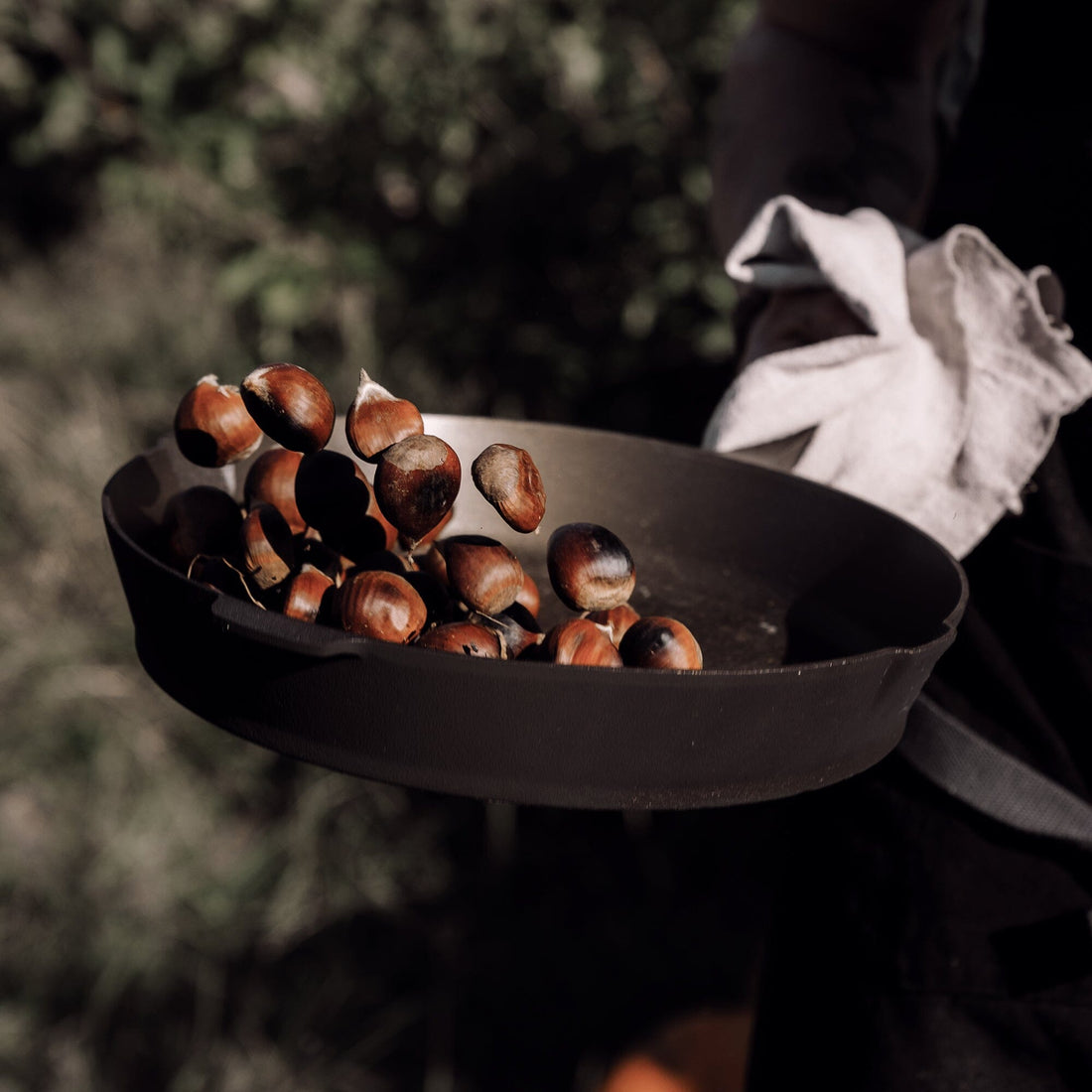 All-In-One Cast Iron Skillet Bundle
The Cast Iron Cooking Essentials Bundle is intentionally designed for indoor and outdoor cooking enthusiasts. The 12-inch All-In-One Cast Iron Skillet is the star, featuring a Dutch oven-style lid, polished interior, extended handle, and copper accents. Pre-seasoned and inspired by Japanese cookware, it's perfect for open-fire cooking.
For added convenience, we've included a Suede Leather Hot Pad. This trivet safeguards tables, countertops, and your hands, preventing heat transfer and developing a beautiful patina over time. Completing the set, our Wooden Spoon and spatula, crafted from black walnut with copper accents, are versatile tools for both kitchen prep and outdoor cooking.
All-In-One Cast Iron Skillet
• Japanese-inspired design
• Polished finish on skillet cooking surface
• Included dutch oven style lid with heat-dispersing copper D-ring handle
• Under-lid can be used as an additional cooking surface
• Pre-seasoned with organic sunflower oil
• Non-stick characteristics over time
• Ergonomic handle design includes an extended handle for easier handling and safety
• Added hole in handle for hanging
• Thicker base distributes heat evenly
• Lighter weight than similar products

Leather Hot Pad
• Heat-resistant protection, up to 572°F
• Made from authentic suede cow leather
• Included 1.75" leather loop for hanging
• Handmade by local artisans in Pakistan

Wooden Utensils
• Ideal for everyday culinary use
• Crafted from durable black walnut
• Included copper-plated stainless steel hanging loop
• Safe for use with cast iron, enamel, glass, non-stick, and porcelain cookware
Items Included:
1 All-In-One Cast Iron Skillet
1 All-In-One Cast Iron Skillet Lid

Materials:
HT150 Iron
Copper plated No. 70 spring wire (4mm gauge)
Organic 100% Sunflower Oil

6" Skillet
Diameter top: 6"
Handle to handle: 11.75"
Handle length: 5.5"
Pour Spout Width: 6.25"
Depth: 1.5"
Weight: 2.125 lbs

6" Lid
Diameter: 6"
Cooking Surface: 5 1/8"
Pour Spout Width: 6.75"
Cooking surface Depth: 0.125"
Height: 0.75"
Weight: 1.875 lbs

10" Skillet
Diameter top: 10"
Handle to handle: 16.75"
Handle length: 6.5"
Pour Spout Width: 10.25"
Depth: 2"
Weight: 5.5 lbs

10" Lid
Diameter: 10"
Cooking Surface: 9"
Pour Spout Width: 11"
Cooking surface Depth: 0.125"
Height: 0.875"
Weight: 4.5 lbs

12" Skillet
Diameter top: 12"
Handle to handle: 18.75"
Handle length: 6.5"
Pour Spout Width: 12.25"
Depth: 2"
Weight: 7 lbs

12" Lid
Diameter: 12"
Cooking Surface: 11.125"
Pour Spout Width: 13"
Cooking surface Depth: 0.125"
Height: 1"
Weight: 6 lbs

SKU:
6": CKW-315
10": CKW-317
12": CKW-318

Designed in Utah | Made in China
As a Certified B Corporation, we ensure that our commitment to safe, ethical, and sustainable practices is upheld by each company and artisan that touches our products worldwide, without exception.
How to reseason your cast iron

1. Scrub the cast iron clean using a cleaning mesh or a stiff brush.
2. Preheat your oven to 300°F (150°C).
3. Choose a cooking oil with a high smoke point, such as Sunflower or Grapeseed oil.
4. Apply a small amount of oil at a time using a paper towel to rub it into the interior of the cast iron, including the walls. Cast iron is porous, so you should be able to rub quite a bit of oil into the surface without excess oil. Repeat until the skillet is well-oiled, but not dripping.
5. Place the cast iron in the oven for 10 minutes, then carefully remove it and wipe away any excess oil on the surface.
6. Increase the oven temperature to 400°F (205°C).
7. Bake the cast iron for 1 hour, then turn off the oven and allow the cast iron to cool in the oven.
8. Once the cast iron is cool, remove it from the oven and wipe away any remaining oil with a paper towel or cloth.

Your cast iron is now seasoned and ready to use.
Repeat this process periodically to maintain the seasoning on your cast iron.

Suede Leather Hot Pad
Wipe clean with a leather brush.

Wooden Utensils
Hand-wash only. Dry thoroughly after each use. Not dishwasher safe.
Q: Do I need to season my cast iron before using it?
A: No, our cast iron is pre-seasoned and ready to use.

Q: Is my cast iron non-stick?
A: All cast iron skillets are prone to food sticking while cooking during the first few uses. We recommend cooking "slow and low" to get to know your pan.

Q: Can Barebones products be stored outside for extended periods of time?
A: Barebones products are not meant to be stored outside for long periods of time. Extended exposure to wet conditions can lead to unwanted wear and tear. For optimal longevity and to prevent the need for replacement, we recommend storing your products indoors after each use.
Tag @barebonesliving to share your All-In-One Cast Iron Skillet Bundle adventures.
We Stand Behind Our Products
Barebones stands behind the quality of all of our products. Each item we make is meticulously thought out in-house by our team of passionate designers. We sell these products because we love them, we use them, and we want you to enjoy them too. They are meant to elevate your outdoor experience and withstand all normal rugged wear and tear.

We also consciously work with manufacturers that exceed our standards for excellence and safety. If you are not 100% satisfied with your order you are always welcome to use our 30 day return policy or let us know how we can make them better.