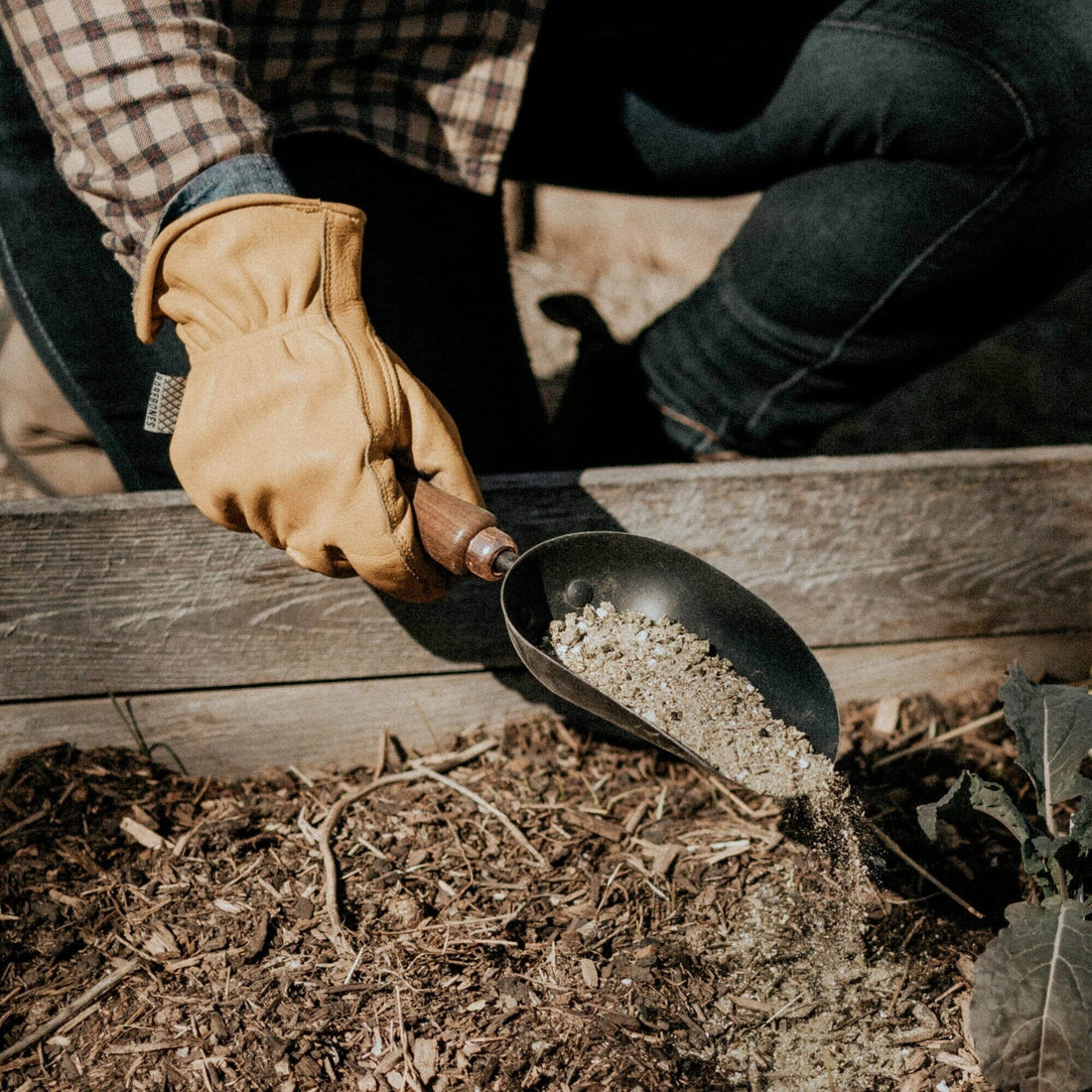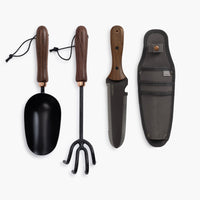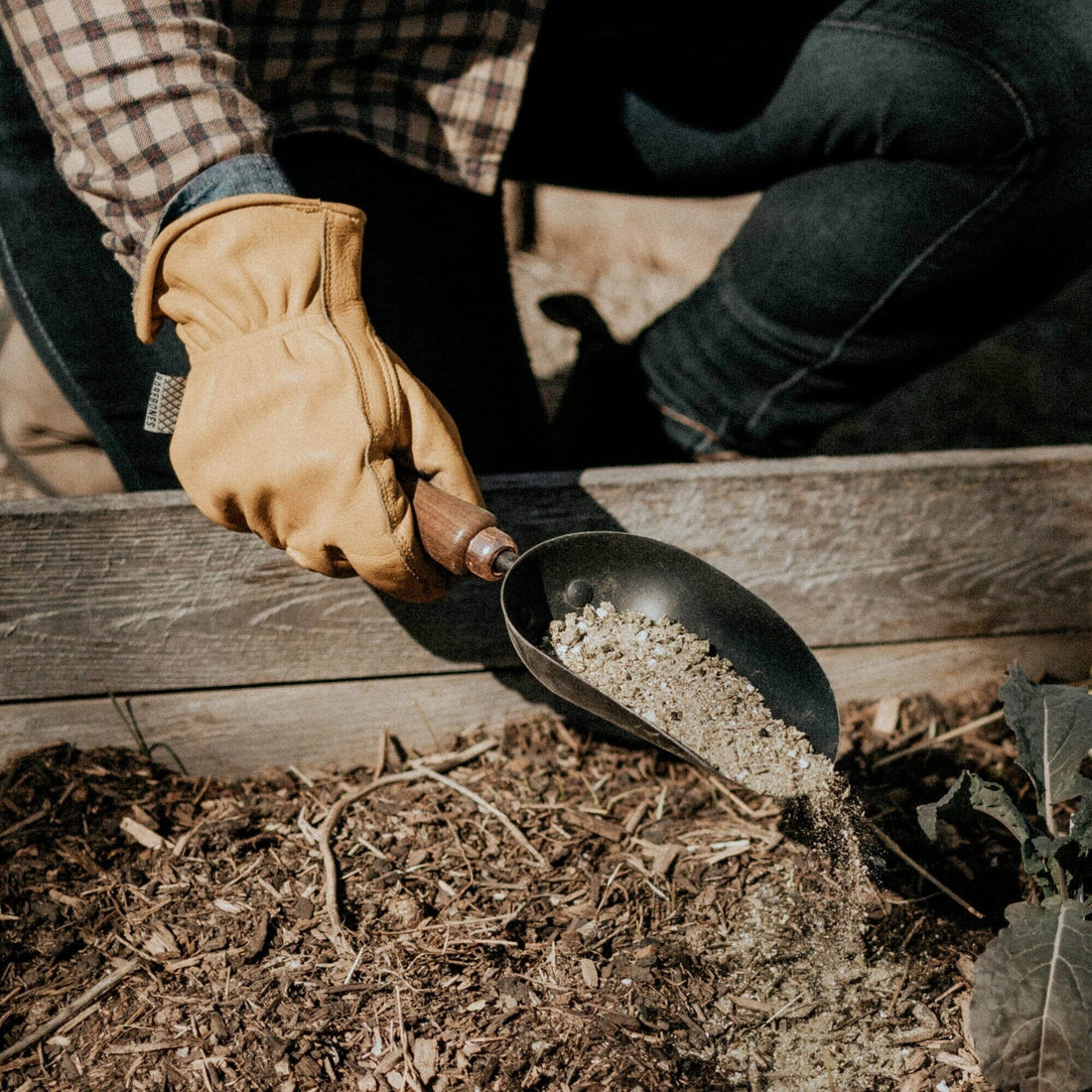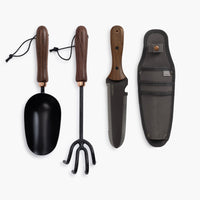 Prep. Plant. Progress.
This gardening set features three essential tools: Garden Scoop, Cultivator, and our top-selling Hori Hori Classic with Sheath. Use the Cultivator to rake through dense, rocky soil and remove weeds, then prep beds and plant seedlings with the high-sided Garden Scoop. Use the Hori Hori Classic as your go-to tool for garden upkeep throughout the season. With a rounded top and serrated sides, it's ideal for scooping, digging, and pulling weeds and fits comfortably in your belt loop via the protective sheath.
All three tools are constructed with an ergonomic, heat-treated stainless steel blade and a comfortable wooden handle for longevity and durability. This set will have you growing in no time.

Cultivator & Garden Scoop
• Rust-resistant stainless steel blade and copper details
• Blades can be resharpened as needed
• Ergonomic walnut handle provides comfortable grip
• Capable of a lifetime of use with proper care

Hori Hori Classic
• Vintage-inspired Japanese design
• 4CR13 Heat-tempered 6 ¾" stainless steel blade
• Full, stainless steel tang
• Rich and durable walnut handle
• Copper ring accent
• Serrated edge and smooth, sharp edge
• Twine cutter and bottle opener
• 1" depth markings

Hori Hori Classic Sheath
• 900D polyester construction
• Reinforced with heavy-duty rivets
• Fits Hori Hori Classic only
• Copper-finished snap closure
• Metal belt clip
Items Included:
1 Cultivator
1 Garden Scoop
1 Hori Hori Classic
1 Hori Hori Classic Sheath

Materials:
Walnut Handle (All)
Copper-plated stainless steel cap (Cultivator & Garden Scoop)
Waxed cotton cord (Cultivator & Garden Scoop)
Hori Hori Classic: Heat-treated 4Cr13 stainless steel blade
Cultivator: Heat-treated 2Cr13 stainless steel blade, 410 stainless steel shaft
Garden Scoop: Heat-treated 430 stainless steel scoop, 410 stainless steel shaft
Hori Hori Classic Sheath: 900D polyester, Stainless steel, Copper Snap

Cultivator Dimensions:
14.25" x 3.25" x 3.25"
0.80 lbs

Garden Scoop Dimensions:
12.50" x 3.50" x 1.50"
0.40 lbs

Hori Hori Classic Dimensions:
12" x 2" x 1"
0.80 lbs

Hori Hori Classic Sheath Dimensions:
12.5" x 3.75" x 1.5"
0.30 lbs

Designed in Utah | Made in China
As a Certified B Corporation, we ensure that our commitment to safe, ethical, and sustainable practices is upheld by each company and artisan that touches our products worldwide, without exception.
Blades:
Apply a thin coat of protective oil after each use. Wipe clean of dirt, water, and fingerprints regularly. Use a medium to fine file to straighten out any larger dings or nicks in the blade. The edge can be honed with a medium sharpening disk or stone.

Sheath:
Waxed canvas should never be dry cleaned or machine washed. It can be cleaned carefully by hand. Brush off the loose dirt, rinse the surface with cold water, gently scrub with a brush, then let air dry. If stains persist, use mild bar soap or saddle soap.

After cleaning, waxed canvas may need to be re-waxed. To do so, use a wax conditioner and apply following the manufacturer's instructions.
Q: Can I store my garden tools outside for extended periods of time?
A: Garden tools are not meant to be stored outside for long periods of time. Extended exposure to wet conditions may cause rust and unnecessary wear and tear. We recommend storing your garden tools indoors after use to help them last as long as possible and to avoid the need to purchase a replacement.
We Stand Behind Our Products
Barebones stands behind the quality of all of our products. Each item we make is meticulously thought out in-house by our team of passionate designers. We sell these products because we love them, we use them, and we want you to enjoy them too. They are meant to elevate your outdoor experience and withstand all normal rugged wear and tear.

We also consciously work with manufacturers that exceed our standards for excellence and safety. If you are not 100% satisfied with your order you are always welcome to use our 30 day return policy or let us know how we can make them better.