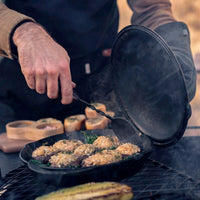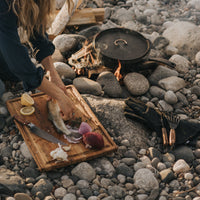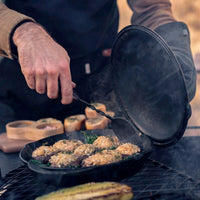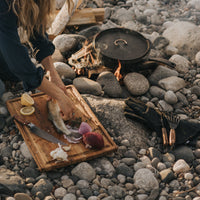 The Cowboy Grill Chef Spoon, Fish Spatula, and Carving Fork are crafted with hand-forged stainless steel and fitted with a smooth, natural walnut handle that keeps cool over high heat. Designed for comfort and safety when working around open fire and hot coals, these three essentials promise to deliver everything from flawless cuts to perfectly flipped and seared meat & veggies. Crafted to hang and work with any grill.
• Designed with direct input from Barebones' open-fire chef partners
• Hand-tooled and forged elements
• Blackened stainless steel with antiqued finish
• Natural walnut handle
• Designed to hang and work with the Cowboy Fire Pit Grill
Items Included:
1 Cowboy Grill Carving Fork
1 Cowboy Grill Chef Spoon
1 Cowboy Grill Fish Spatula

Materials:
Stainless steel, natural walnut

Dimensions:

Cowboy Grill Carving Fork
13.5" x 1.5" x 1.5" | 0.3 lbs

Cowboy Grill Chef Spoon
12.5" x 2.5" x 1.5" | 0.35 lbs

Cowboy Grill Fish Spatula
12.5" x 3.25" x 1.5" | 0.25 lbs

Designed in Utah | Made in China
As a Certified B Corporation, we ensure that our commitment to safe, ethical, and sustainable practices is upheld by each company and artisan that touches our products worldwide, without exception.
Q: Can I store my Cowboy Grilling Tools outside for extended periods of time?
A: The grilling tools are not meant to be stored outside for long periods of time. Extended exposure to wet conditions may cause rust and unnecessary wear and tear. We recommend storing your tools indoors after use to help them last as long as possible and to avoid the need to purchase a replacement.
We Stand Behind Our Products
Barebones stands behind the quality of all of our products. Each item we make is meticulously thought out in-house by our team of passionate designers. We sell these products because we love them, we use them, and we want you to enjoy them too. They are meant to elevate your outdoor experience and withstand all normal rugged wear and tear.

We also consciously work with manufacturers that exceed our standards for excellence and safety. If you are not 100% satisfied with your order you are always welcome to use our 30 day return policy or let us know how we can make them better.