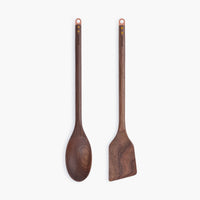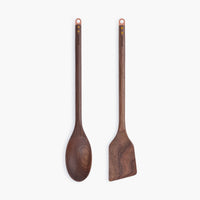 Seamlessly transition from kitchen prep to outdoor cooking with this beautiful black walnut spatula & spoon set. Ideal for use with scratch-prone cookware to mix ingredients, stir sauces, and cook flavorful foods. Included copper accents match the look and feel of our full dining collection.

• Ideal for everyday culinary use
• Crafted from durable black walnut
• Included copper-plated stainless steel hanging loop
• Safe for use with cast iron, enamel, glass, non-stick, and porcelain cookware

Items Included:
1 Wooden Spatula
1 Wooden Spoon

Materials:
Black walnut, copper-plated stainless steel, food-safe satin varnish

Dimensions:
14.25" x 2.25" x 0.75"
0.15 lbs

Designed in Utah | Made in China
As a Certified B Corporation, we ensure that our commitment to safe, ethical, and sustainable practices is upheld by each company and artisan that touches our products worldwide, without exception.
Hand-wash only. Dry thoroughly after each use. Not dishwasher safe.
Q: Can Barebones products be stored outside for extended periods of time?
A: Barebones products are not meant to be stored outside for long periods of time. Extended exposure to wet conditions can lead to unwanted wear and tear. For optimal longevity and to prevent the need for replacement, we recommend storing your products indoors after each use.
We Stand Behind Our Products
Barebones stands behind the quality of all of our products. Each item we make is meticulously thought out in-house by our team of passionate designers. We sell these products because we love them, we use them, and we want you to enjoy them too. They are meant to elevate your outdoor experience and withstand all normal rugged wear and tear.

We also consciously work with manufacturers that exceed our standards for excellence and safety. If you are not 100% satisfied with your order you are always welcome to use our 30 day return policy or let us know how we can make them better.