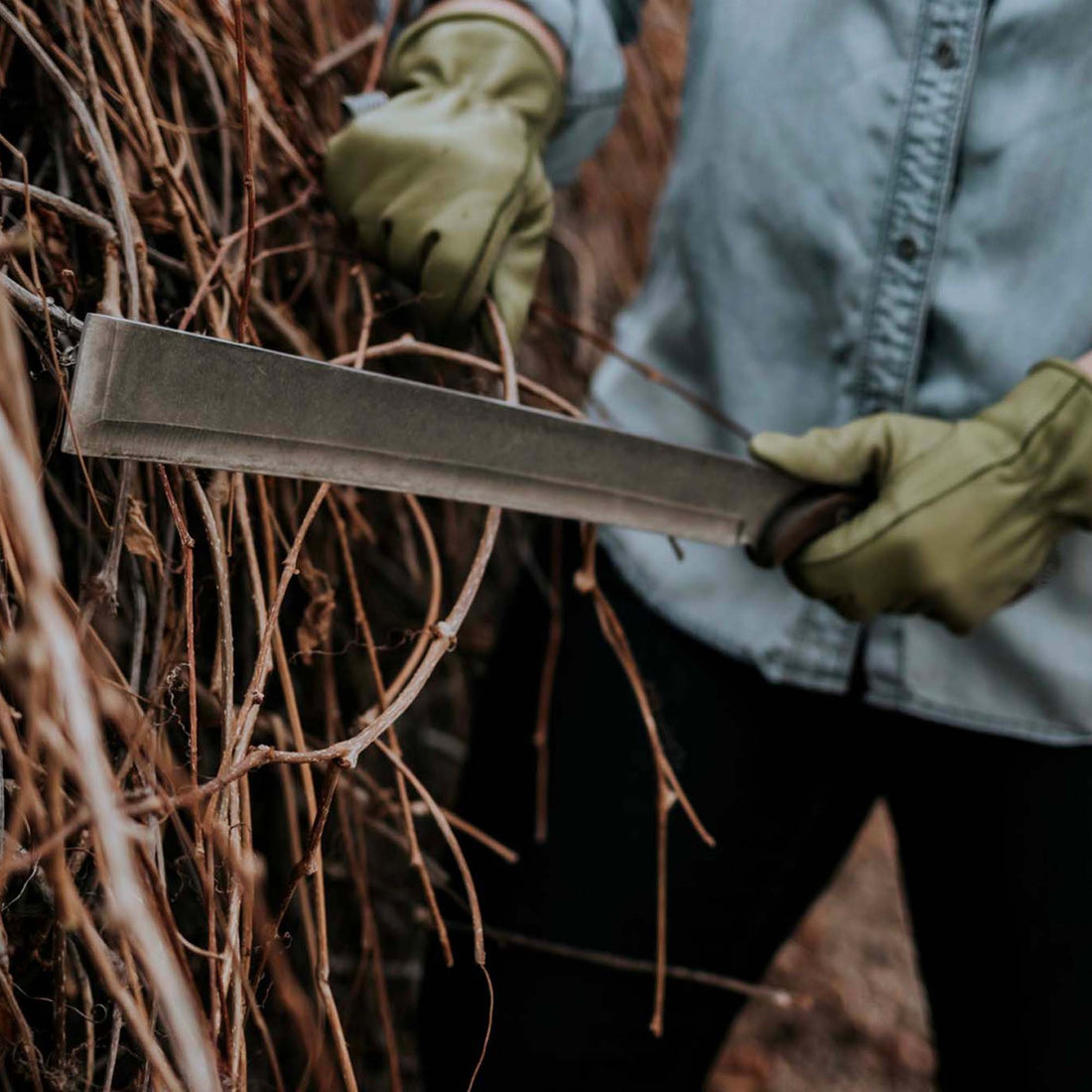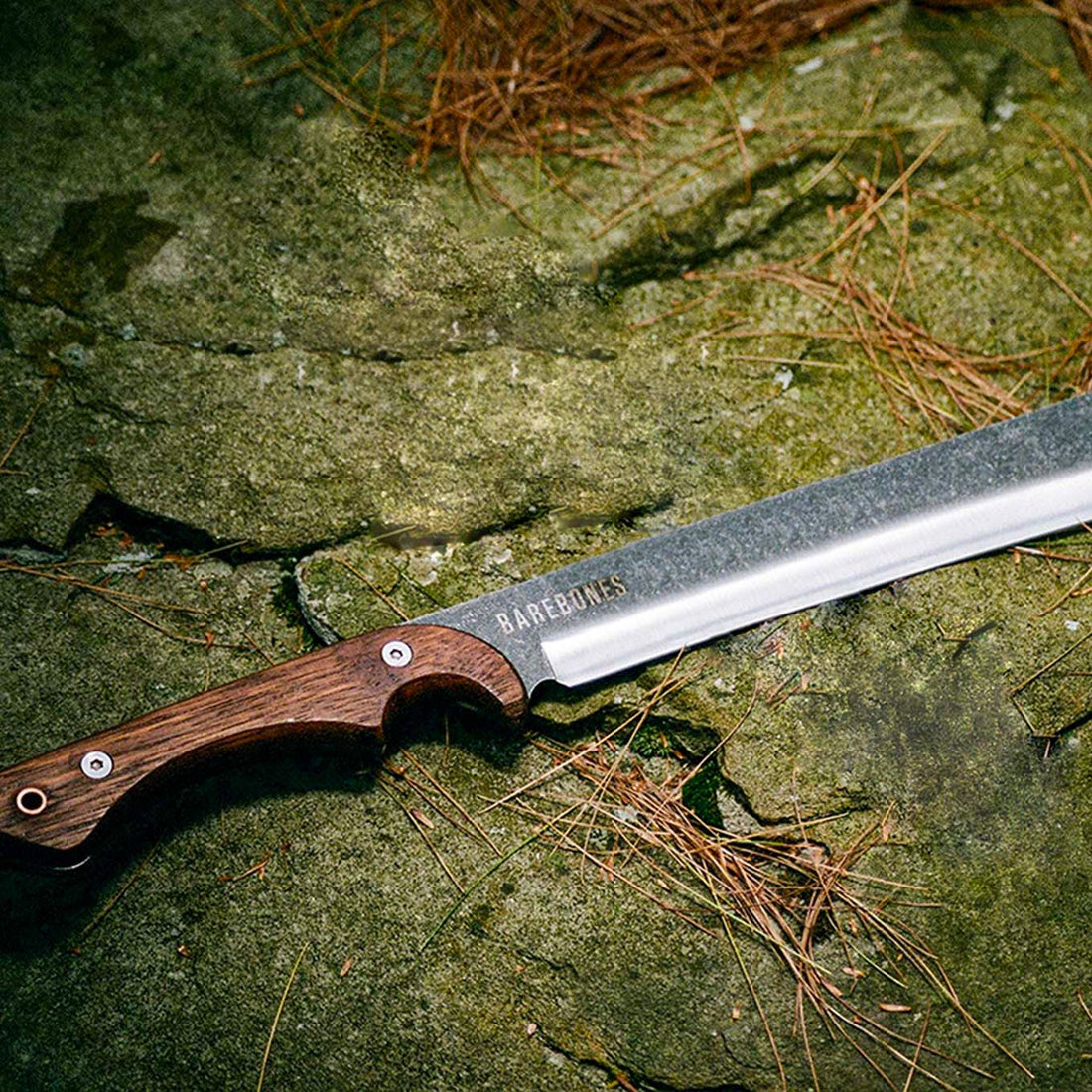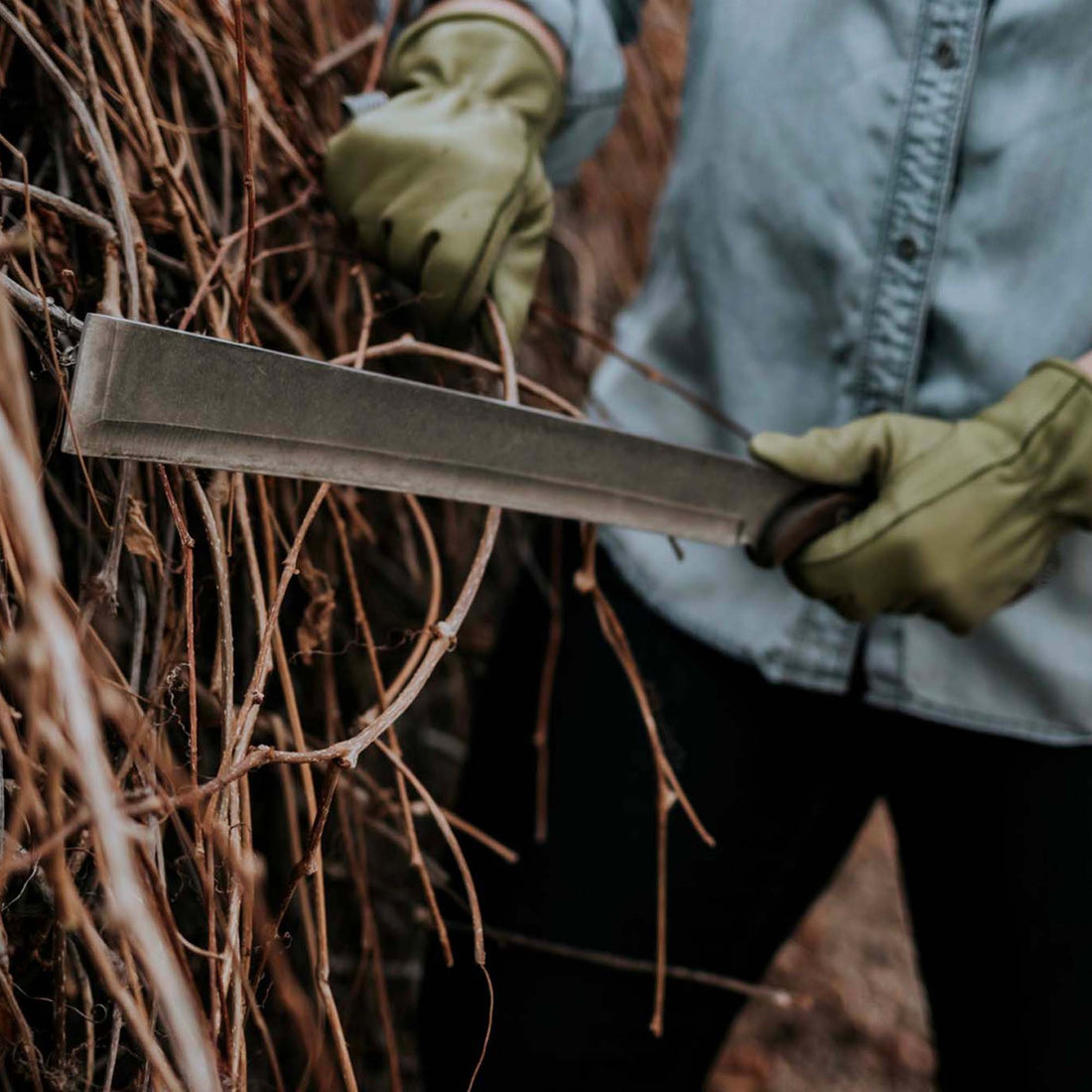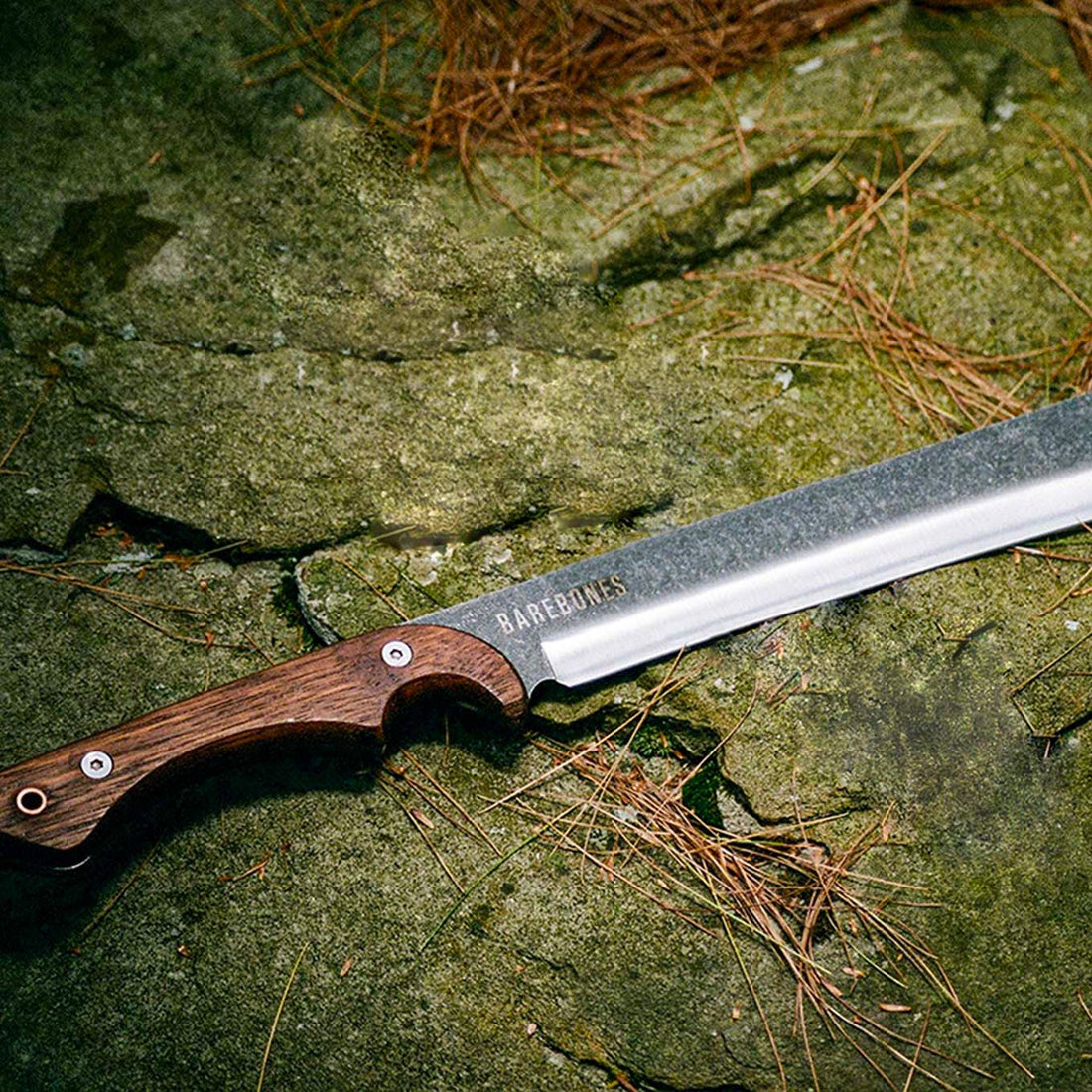 Clear brush, strip bark, plank wood, make kindling–all with one thoughtfully-crafted tool. Inspired by a traditional Japanese implement and constructed with heritage-quality materials, our Japanese Nata Tool unites versatile function and refined durability. The stainless steel machete-like blade and a solid steel core that extends through the length of the hardwood handle lend stability and greater swinging weight yet it still packs thin and light, making it an essential addition to any collection.
Tags
Machete
Japanese Nata Tool
• Vintage-inspired Japanese design
• 3CR13 stainless steel
• 12" easy-sharpen blade
• Full tang
• Hardwood handle with walnut finish
• Timeless copper accents

Sheath
• 900D polyester construction
• Reinforced with heavy-duty rivets
• Copper-finished snap closure
• Metal belt clip
Items Included:
1 Japanese Nata Tool
1 900D Polyester Sheath

Materials:
Japanese Nata Tool
• Heat-treated 3CR13 stainless steel
• Walnut

Sheath
• 900D polyester
• Full-grain leather
• Copper rivets

Dimensions:
21" x 4.75" x 2.25"
1.5 lbs

SKU:
HMS-2116

Designed in Utah | Made in China
As a Certified B Corporation, we ensure that our commitment to safe, ethical, and sustainable practices is upheld by each company and artisan that touches our products worldwide, without exception.
Blade:
Apply a thin coat of protective oil after each use. Wipe clean of dirt, water, and fingerprints regularly. Use a medium to fine file to straighten out any larger dings or nicks in the blade. The edge can be honed with a medium sharpening disk or stone.

Sheath:
Waxed canvas should never be dry cleaned or machine washed. It can be cleaned carefully by hand. Brush off the loose dirt, rinse the surface with cold water, gently scrub with a brush, then let air dry. If stains persist, use mild bar soap or saddle soap.

After cleaning, waxed canvas may need to be re-waxed. To do so, use a wax conditioner and apply following the manufacturer's instructions.
Q: Why 900D Polyester?
A: 900D Polyester is water-resistant, resistant to bacteria, and very durable which makes it ideal for extended use in the outdoors.

Q: Can I store my Japanese Nata Tool outside for extended periods of time?
A: The Japanese Nata Tool is not meant to be stored outside for long periods of time. Extended exposure to wet conditions may cause rust and unnecessary wear and tear. We recommend storing your Nata Tool indoors after use to help it last as long as possible and to avoid the need to purchase a replacement.
The Materials
Just two materials make up our Nata Tool: 3CR13 stainless steel and durable walnut. 3CR13 stainless steel is medium-grade steel with a hardness rating of 52, making it tough enough to cut through any malleable wood or plant material. Dense and shock resistant, walnut is a highly prized hardwood perfect carved as a handle. The warm and rich color complements its steel counterpart to create a beautiful, timeless implement.

Included sheath is made of 900D polyester with an interior liner. It weathers real-world use while protecting the blade from dulling. Stainless steel belt clip supports easy carrying and accessibility, while the strong handle strap restricts the blade from slipping or moving.
The Inspiration
The Nata Tool was inspired by an unassuming, multipurpose cleaver used in Japan for hundreds of years for pruning, trimming, splitting small pieces of wood, and other garden and forestry projects. Historically, the blade was sharpened only on the right side, so it could be used to prune branches at the stem or trunk of the tree. The simplicity and intentionality of the original design celebrates a long-lasting tradition of creating utilitarian tools that get the job done. No frills, no fuss.
The Design
Our design pays homage to the original tool with several unique elements exclusive to Barebones. After research and testing, we added a sharpened perpendicular end that a traditional Nata Tool does not have. This addition is incredibly useful for removing bark and shaving wood curls. We also lengthened the handle to allow for multiple grip types: choke up the grip for finer splitting and carving or grip near the end for a longer chipping swing. The result? A classic tool with modern functionality that meets our Woodsman Collection expectations.
Total 5 star reviews: 133
Total 4 star reviews: 14
Total 3 star reviews: 9
Total 2 star reviews: 0
Total 1 star reviews: 2
Design
Rated 4.8 on a scale of 1 to 5
Quality
Rated 4.1 on a scale of 1 to 5
93%
would recommend this product
Jeffery T.

Verified Buyer

I use my Barebones product when I'm…

At home,

Bushcrafting,

Camping

Nata Tool

I got this item with the nata hatchet. I loved it and I love the nata tool also. I really like the square, beveled end. I really like it.

Design

Rated 5.0 on a scale of 1 to 5

Quality

Rated 5.0 on a scale of 1 to 5

I use my Barebones product when I'm…

At home,

Bushcrafting,

Camping,

Entertaining,

Foraging

Customer service

The tool withstood mostly everything I put it through for a year and it snapped. Barebones has replaced it with no Hassel and I had it in a week

Design

Rated 4.0 on a scale of 1 to 5

Quality

Rated 4.0 on a scale of 1 to 5

Benjamin D.

Verified Buyer

I choose Barebones because...

Customer Service,

Quality Craftsmanship

I use my Barebones product when I'm…

Camping,

Hiking,

In the yard,

Gardening,

Traveling

Excellent Customer Service

I had a problem with my nata tool and they replaced the tool promptly. I take this to the woods with me every week and use the heck out of it. It's my go to and I love it.

Design

Rated 5.0 on a scale of 1 to 5

Quality

Rated 5.0 on a scale of 1 to 5

I choose Barebones because...

Quality Craftsmanship,

Customer Service,

Sustainability

I use my Barebones product when I'm…

At home,

Camping,

Gardening

Great tool, solid warranty

I love the tool and used it to cut brush etc., at home and at camp. The blade did break after a couple of years however, I reached out to Barebones and they are sending me a new one! Impressed they took the initiative to follow up and get one in route so quickly. I certainly didn't expect to have it replaced. I will say, it's clear from the photo I sent them it was not banged up like I had abused it on rocks or something. I did take good care to keep from chipping the blade so it remained sharp. Speaking of sharp, it holds an edge very well! I will be giving one of these to my son-in-law (along with other tools) for their house warming gift later this fall.

Design

Rated 5.0 on a scale of 1 to 5

Quality

Rated 5.0 on a scale of 1 to 5

I choose Barebones because...

Customer Service

I use my Barebones product when I'm…

At home

Excellent product, excellent customer service

The blade is well made, very sharp and do i does the job I intended for it. I did need to use their customer service department and their response was fast and excellently replied and resolved my issue.

Design

Rated 5.0 on a scale of 1 to 5

Quality

Rated 5.0 on a scale of 1 to 5
Reviews Loaded
Reviews Added
We Stand Behind Our Products
Barebones stands behind the quality of all of our products. Each item we make is meticulously thought out in-house by our team of passionate designers. We sell these products because we love them, we use them, and we want you to enjoy them too. They are meant to elevate your outdoor experience and withstand all normal rugged wear and tear.

We also consciously work with manufacturers that exceed our standards for excellence and safety. If you are not 100% satisfied with your order you are always welcome to use our 30 day return policy or let us know how we can make them better.