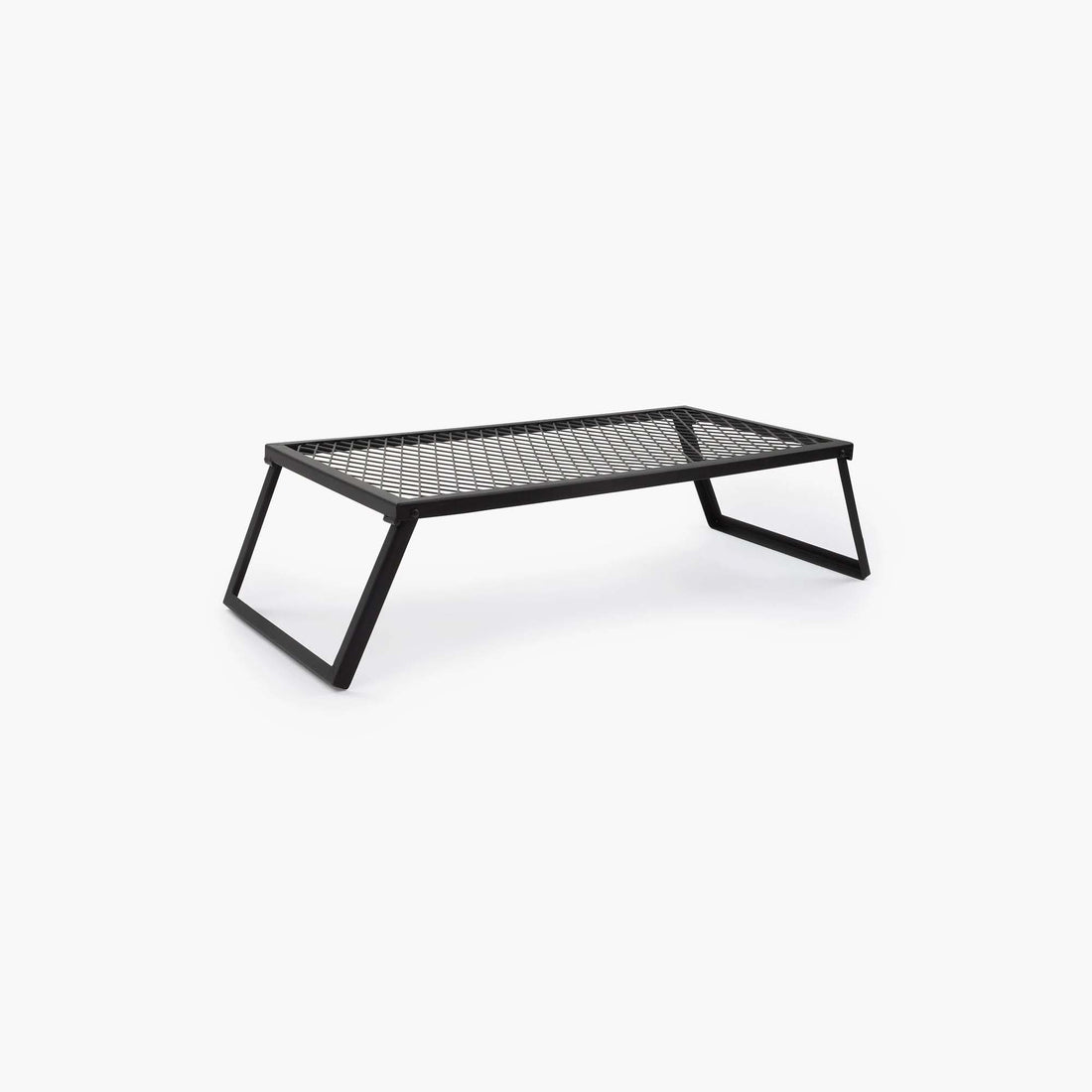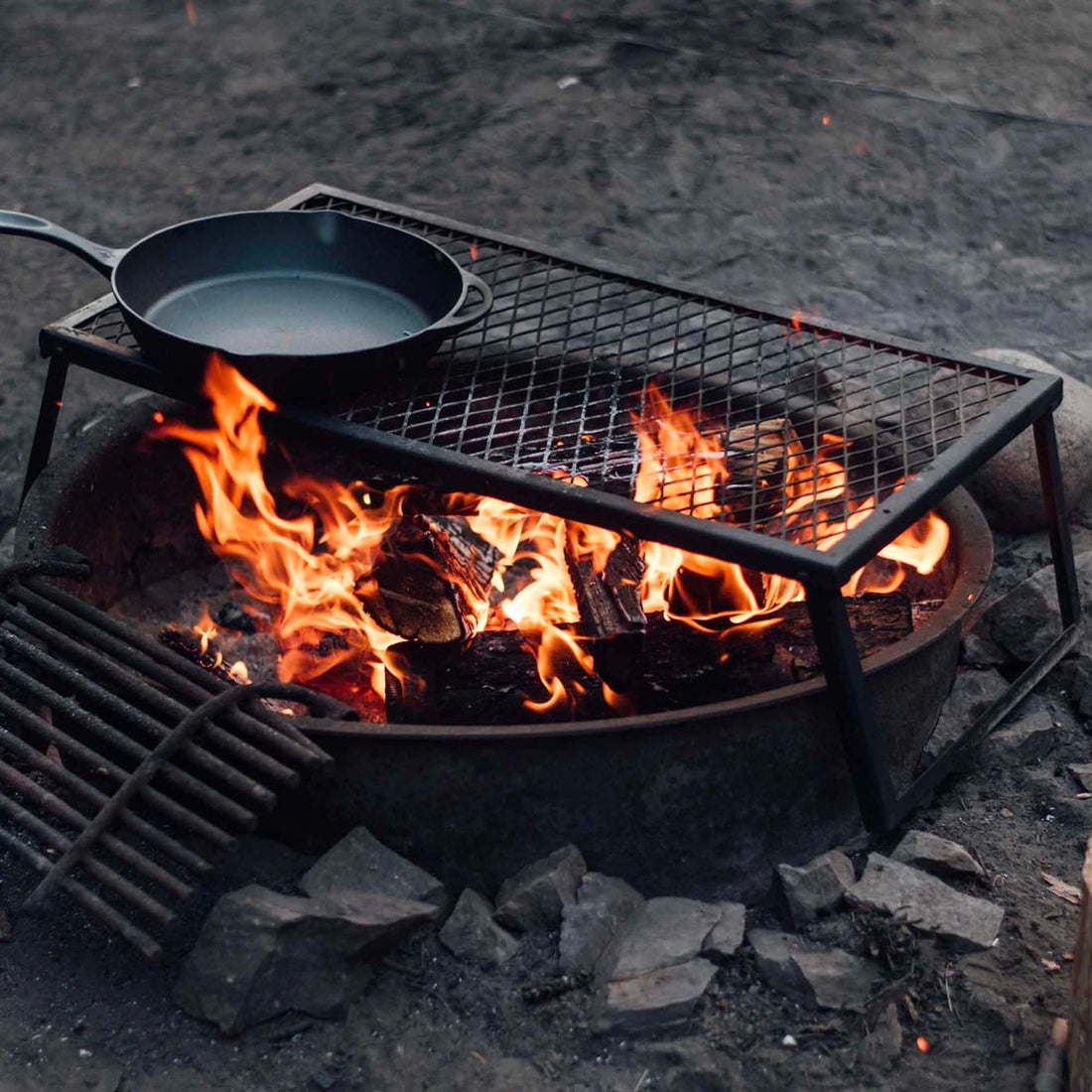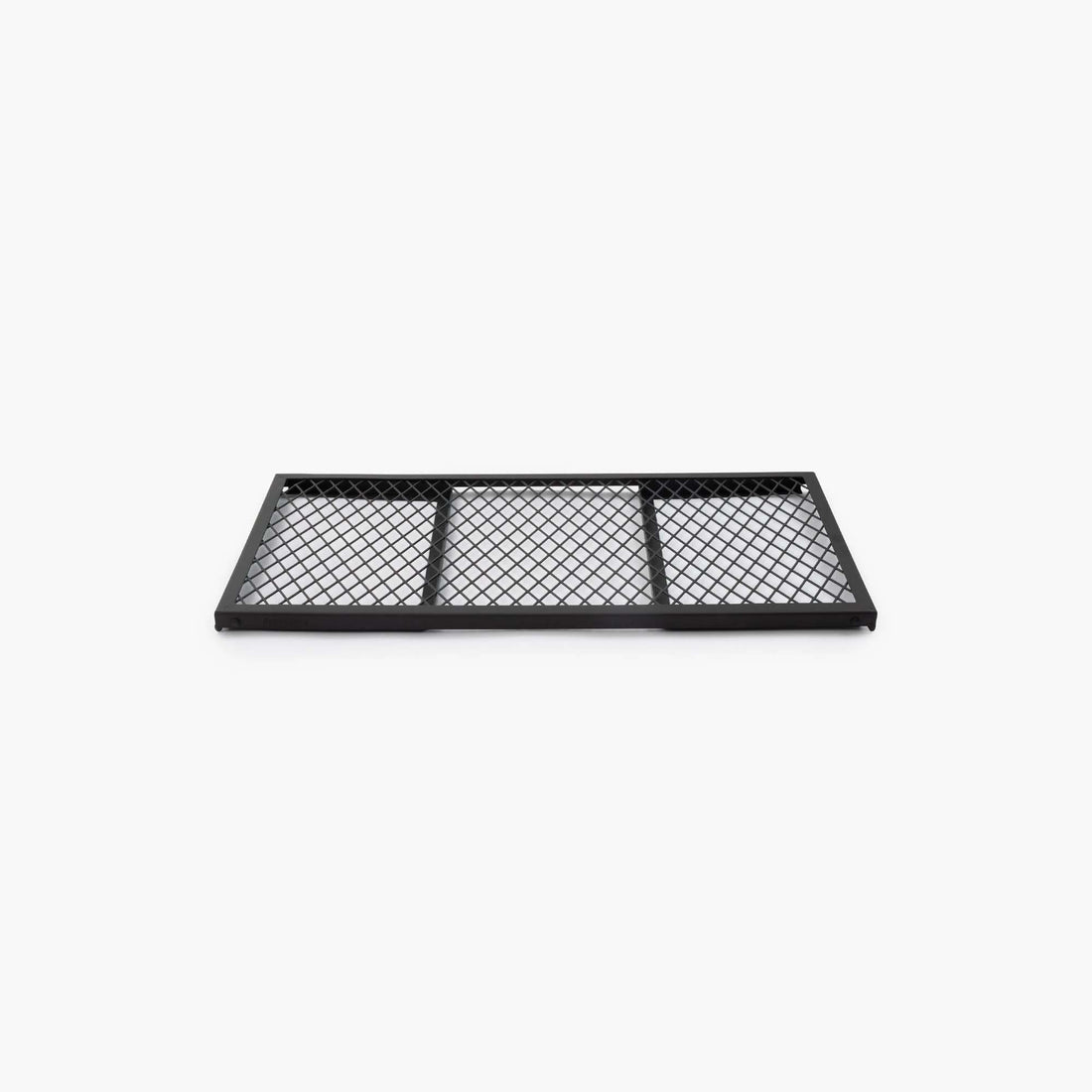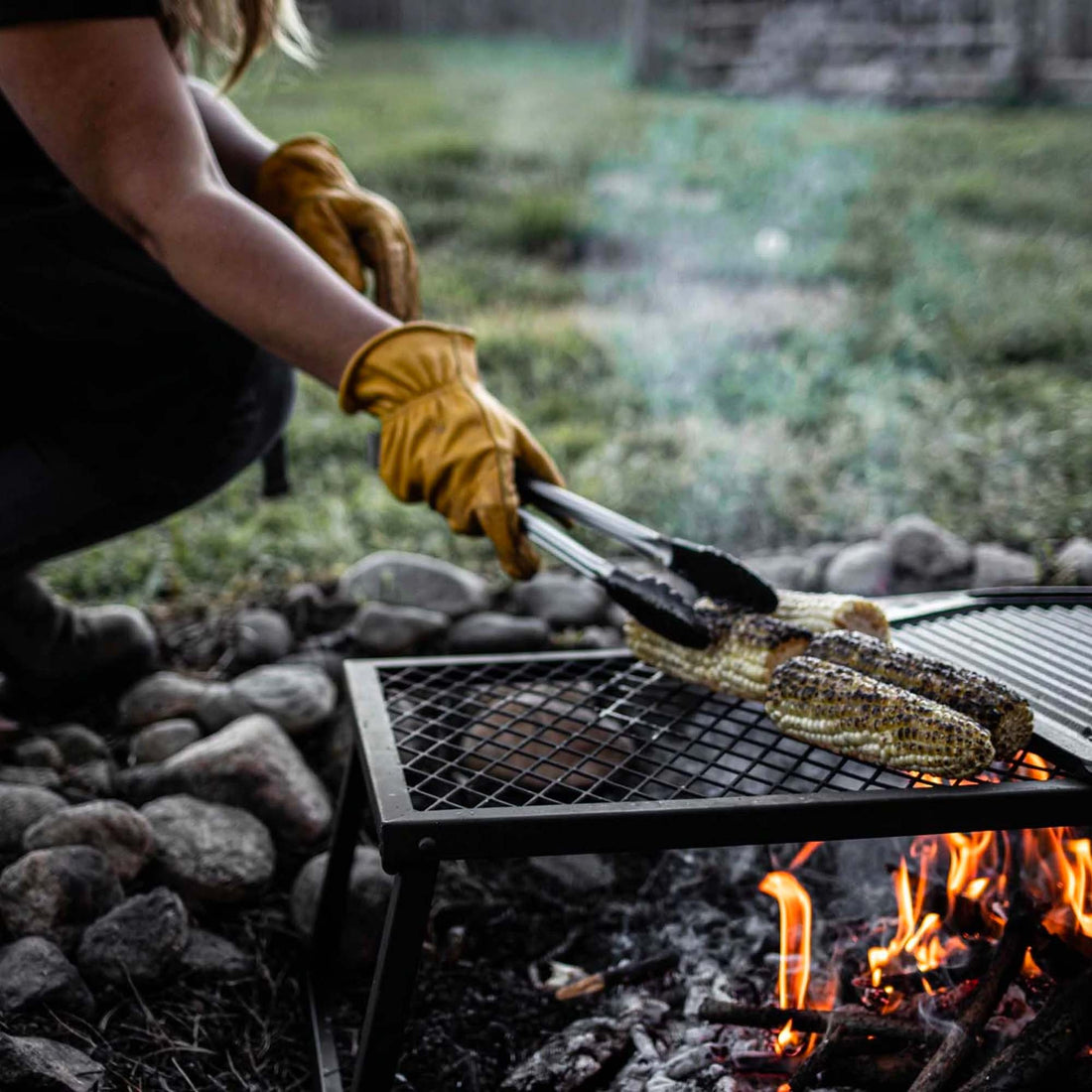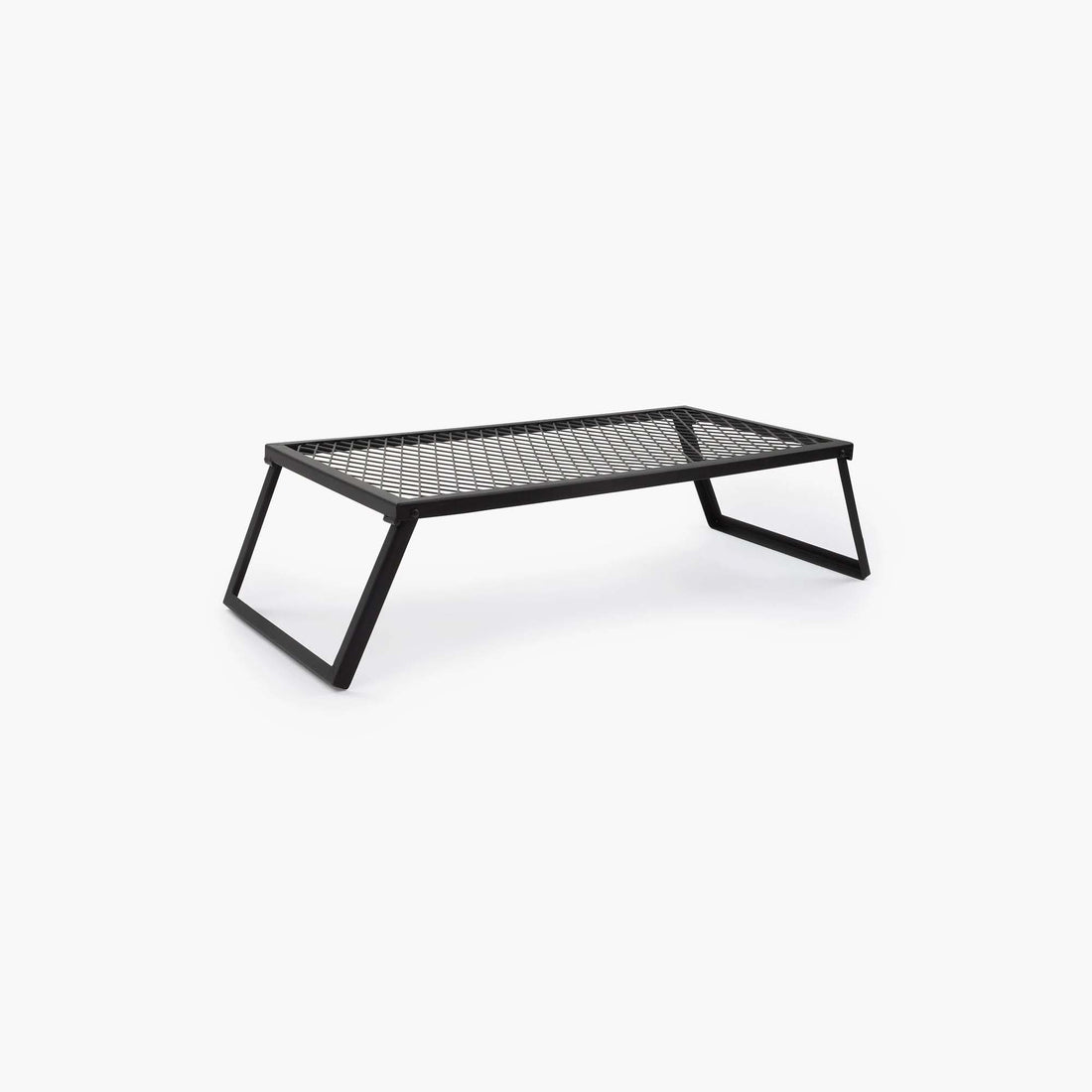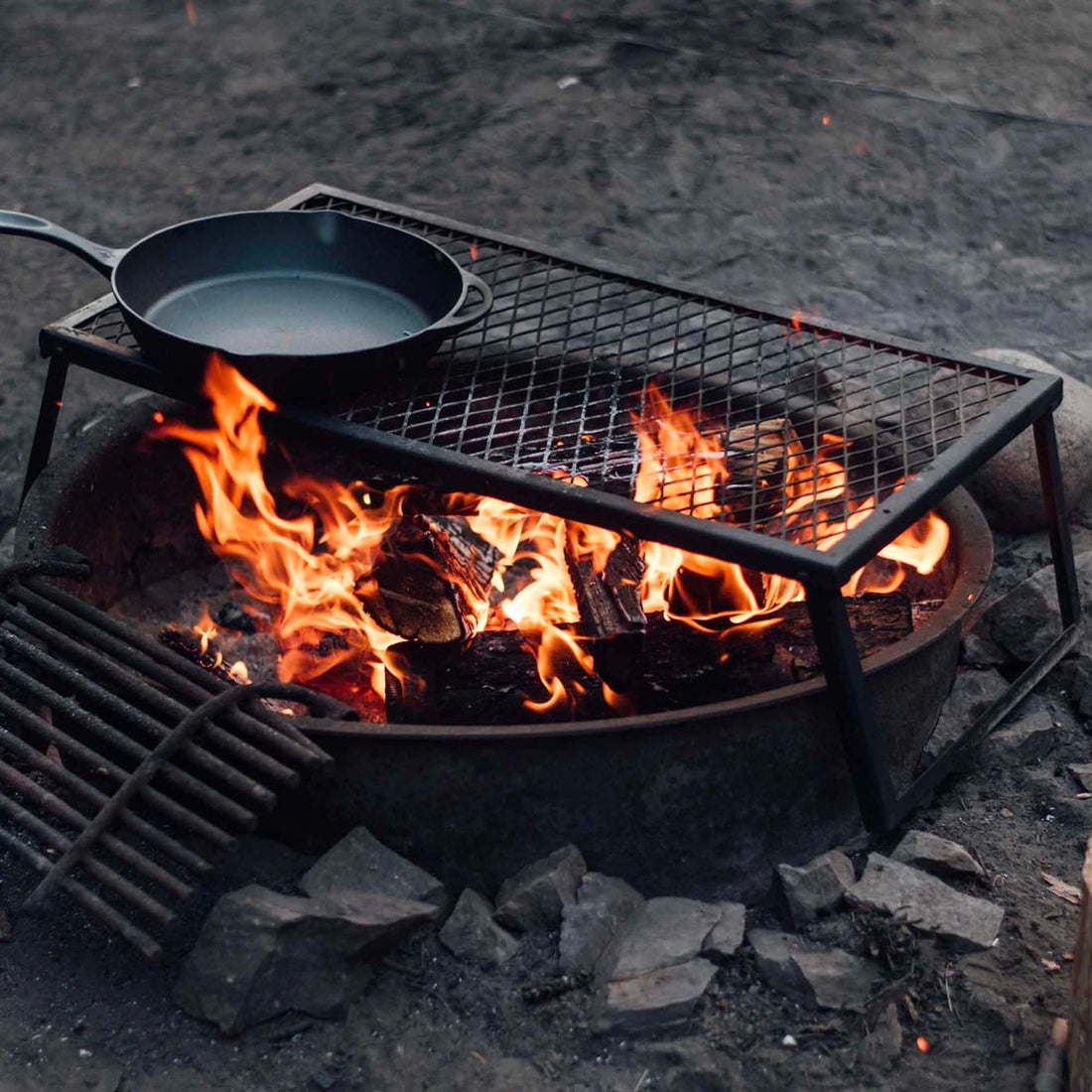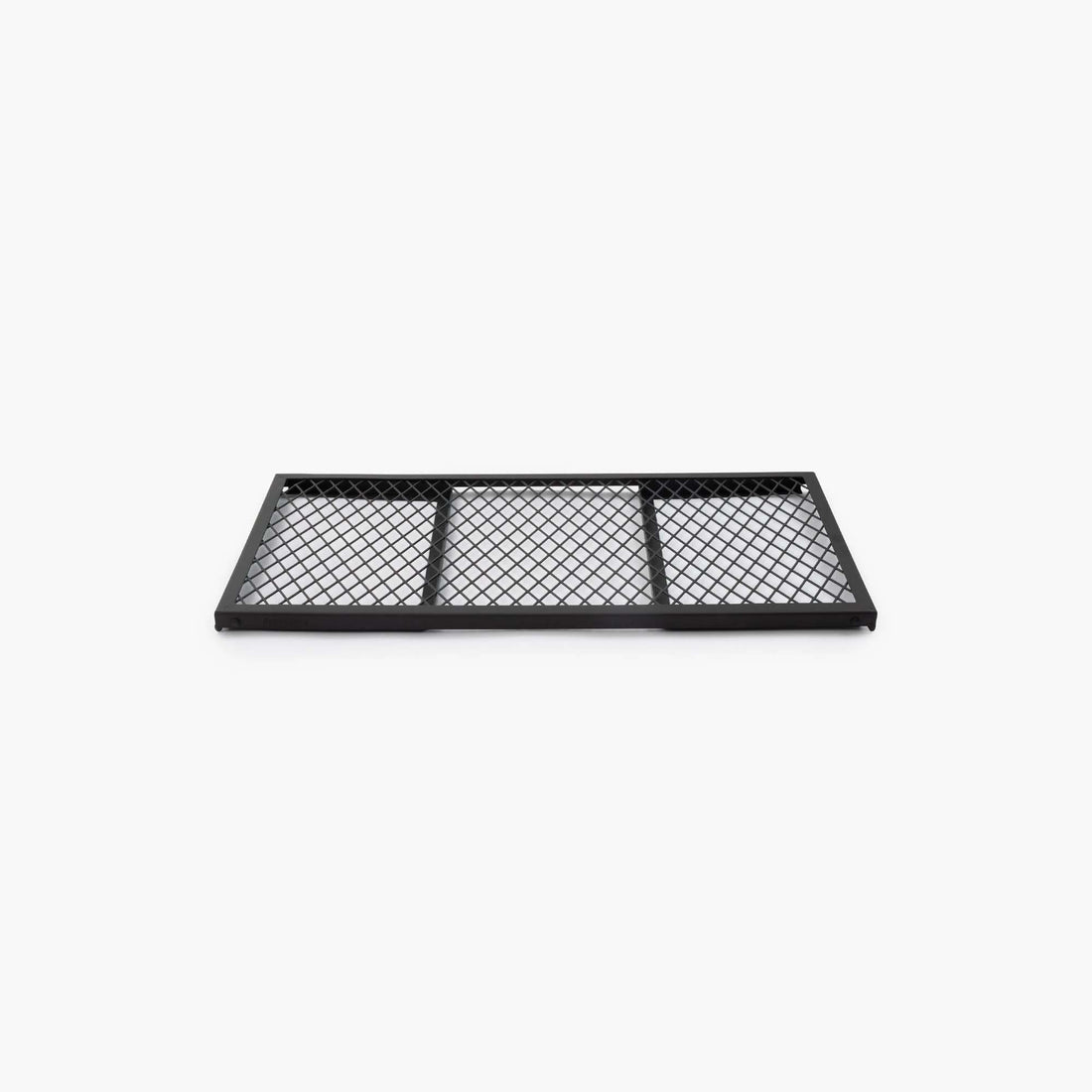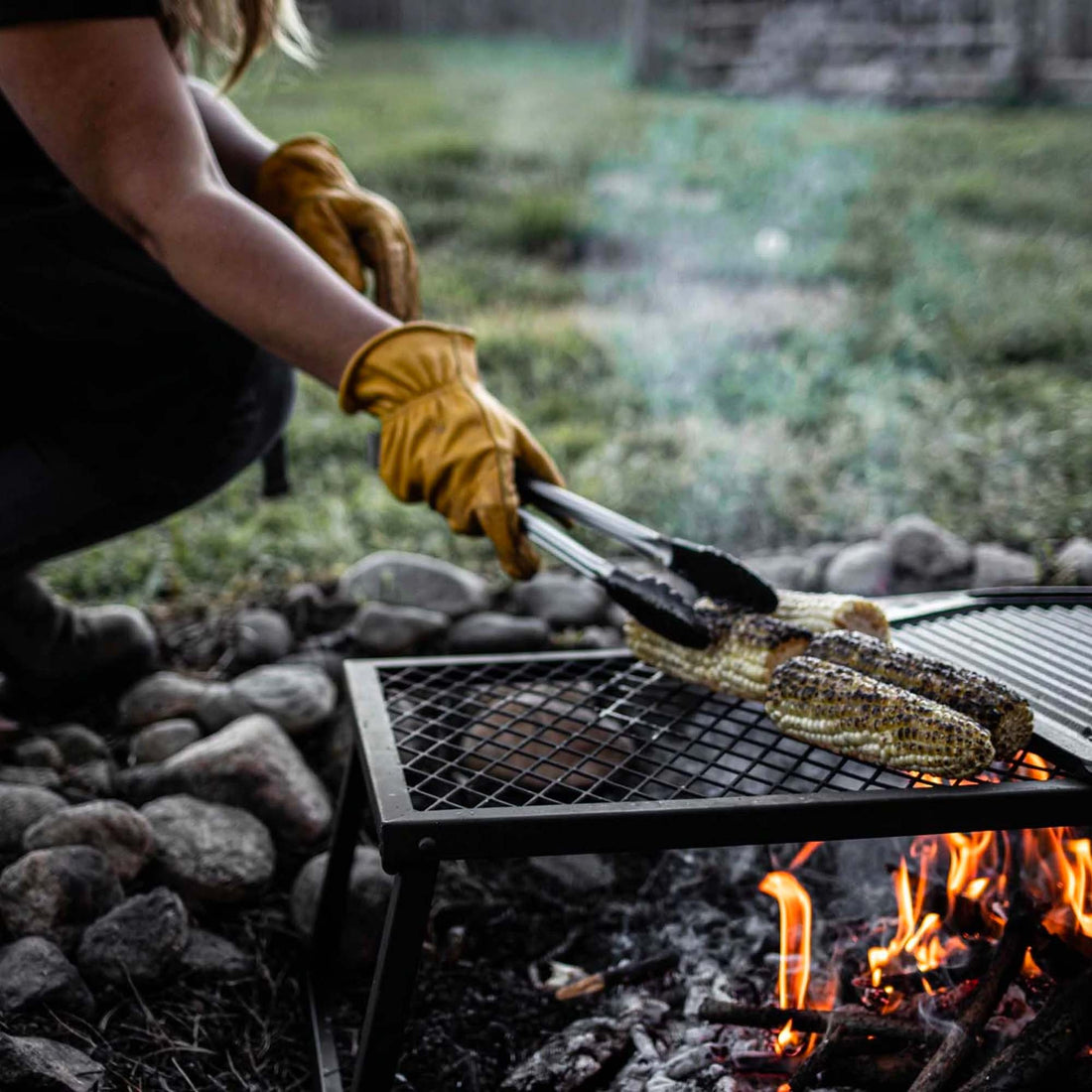 Heavy Duty Grill Grate - Rectangular
Heavy-duty steel grill grate for open-fire cooking. Portable, simple, and ready to go - a cooking surface wherever you need it. Folding legs make for easy transportation and compact storage. Cook directly on the grill surface for seared steaks, sausages, veggies, and more. Use with our cast iron skillet or dutch oven for even temperature and increased versatility.
• Q235 steel mesh grill and frame
• Constructed with high-temperature black coating
• Works with Barebones Fire Pit
• Legs fold underneath for compact storage
Materials:
Steel

Dimensions:
31" x 15.75" x 9.25" (1.75" when folded)
7.2 lbs

SKU:
CKW-476

Designed in Utah | Made in China
As a Certified B Corporation, we ensure that our commitment to safe, ethical, and sustainable practices is upheld by each company and artisan that touches our products worldwide, without exception.
Q: Can I store the Heavy-Duty Grill Grate outside for extended periods of time?
A: The Heavy-Duty Grill Grate is not meant to be stored outside for long periods of time. Extended exposure to wet conditions may cause rust and unnecessary wear and tear. We recommend storing your products indoors after use to help them last as long as possible and to avoid the need to purchase replacements.
The Materials
Lighter in weight than cast iron and more durable than copper, our Extra Large Grill Grate is constructed from heavy-duty steel with an FDA-approved high-temp coating. Steel has a naturally high melting point and is resistant to both corrosion and common weather stains. It makes this grill grate stable enough for heavy backyard use while being versatile enough to throw in the car and bring to your favorite outdoor spot.

The Inspiration
For fire to be useful, it must first be controlled and contained. Humans learned this some 200,000 to 400,000 years ago. Controlled fire was born out of necessity and it propelled the evolution of our species forward. With controlled fire, we could keep warm, cook our food, and stave off enemies and animals. Our classic Grill Grate pays homage to the rock circles and hearths of our past.
The Design
Simplicity and usefulness. Unlike our more complex grill systems, such as the AIO Grill and Cowboy Fire Pit Grill, the Grill Grate is a staple for anyone that enjoys outdoor cooking, regardless of experience. It embodies our brand values of connectivity, community, and inclusiveness.

With a grill grate, you can build a fire anywhere - in a fire pit, in the dirt, on concrete - and cook basic, delicious food. We think of it as a mobile BBQ, a starter kit, with the shortest distance between you and your dinner. No pots, pans, dishes are necessary. Toss it in the canvas carry bag after use and get back to your day.

Intentionally sized to fit perfectly over our Cowboy Fire Pit Grill for additional cooking options and large enough to fit most standard fire pits.


Total 5 star reviews: 13
Total 4 star reviews: 0
Total 3 star reviews: 1
Total 2 star reviews: 0
Total 1 star reviews: 0
Design
Rated 3.0 on a scale of 1 to 5
Quality
Rated 3.0 on a scale of 1 to 5
93%
would recommend this product
Heidi F.

Verified Buyer

I'm sure it is a quality piece of camping equipment!

This is a Christmas gift so I can't write a review. I can say that I have purchased several things from Barebones and everything has been well made quality products! I love this company!

Clara S.

Verified Buyer

Gift

I gave this to my 54 year old son. No feedback yet.

Alexandria M.

Verified Buyer

Great Quality

Perfect fit for our open fire pit. It's cool because it's so easy to fold up and bring if we go camping. Great quality. Not

Going to leave it outside with the elements easy enough to fold up and store. I want this to last. Nice height, retains heat, looking forward to buying more from barebones because I know I can trust the quality of their products.

Heather M.

Verified Buyer

This grill showed up!

Excellent purchase. Bought it for camping, but also used it at home over our fire ring. Great weight. Very durable!

Chris C.

Verified Buyer

Portable grille

Suits my needs just fine , bought it for trips out riding motorcycles and camping !
Reviews Loaded
Reviews Added
Tag @barebonesliving to share your Heavy Duty Grill Grate - Rectangular adventures.
We Stand Behind Our Products
Barebones stands behind the quality of all of our products. Each item we make is meticulously thought out in-house by our team of passionate designers. We sell these products because we love them, we use them, and we want you to enjoy them too. They are meant to elevate your outdoor experience and withstand all normal rugged wear and tear.

We also consciously work with manufacturers that exceed our standards for excellence and safety. If you are not 100% satisfied with your order you are always welcome to use our 30 day return policy or let us know how we can make them better.