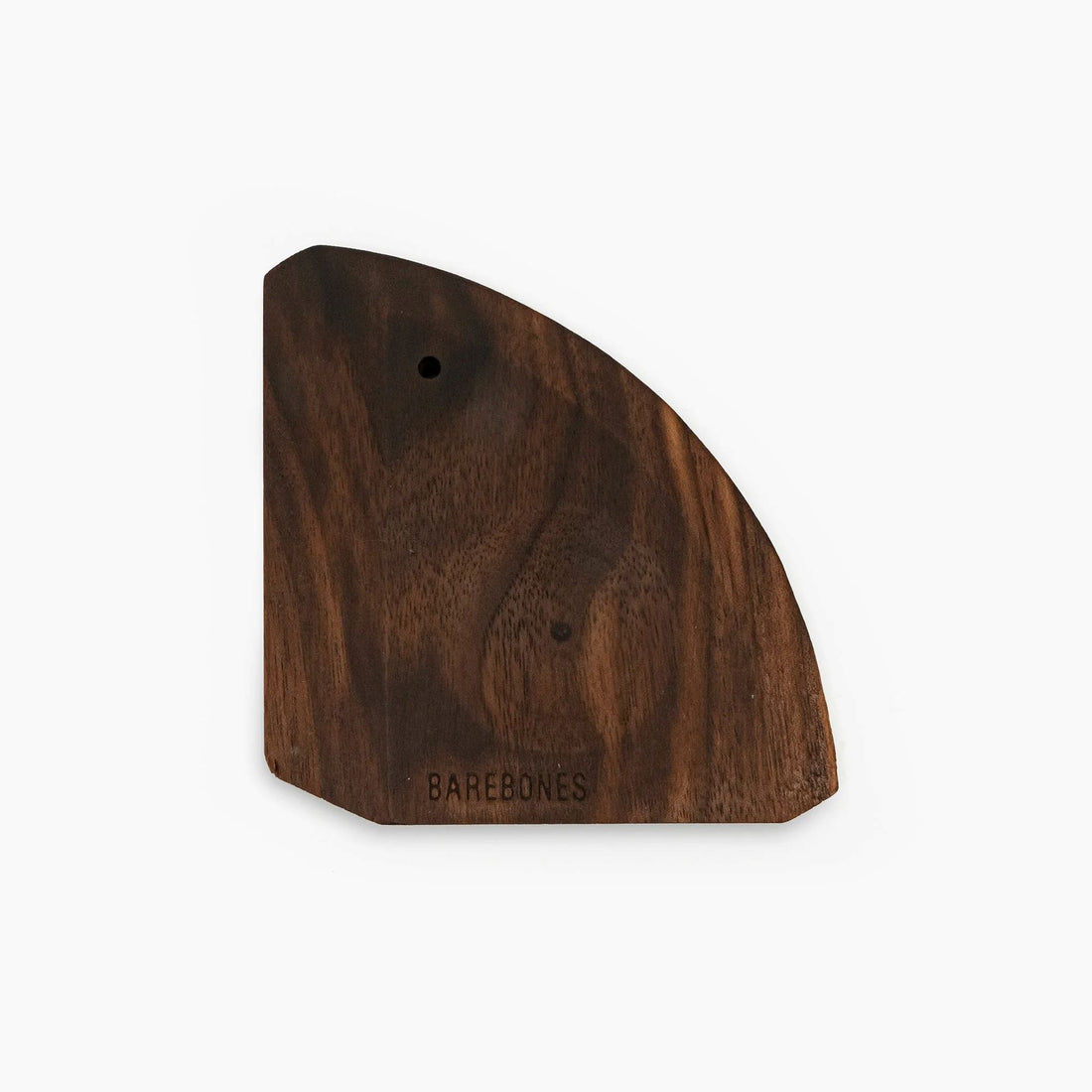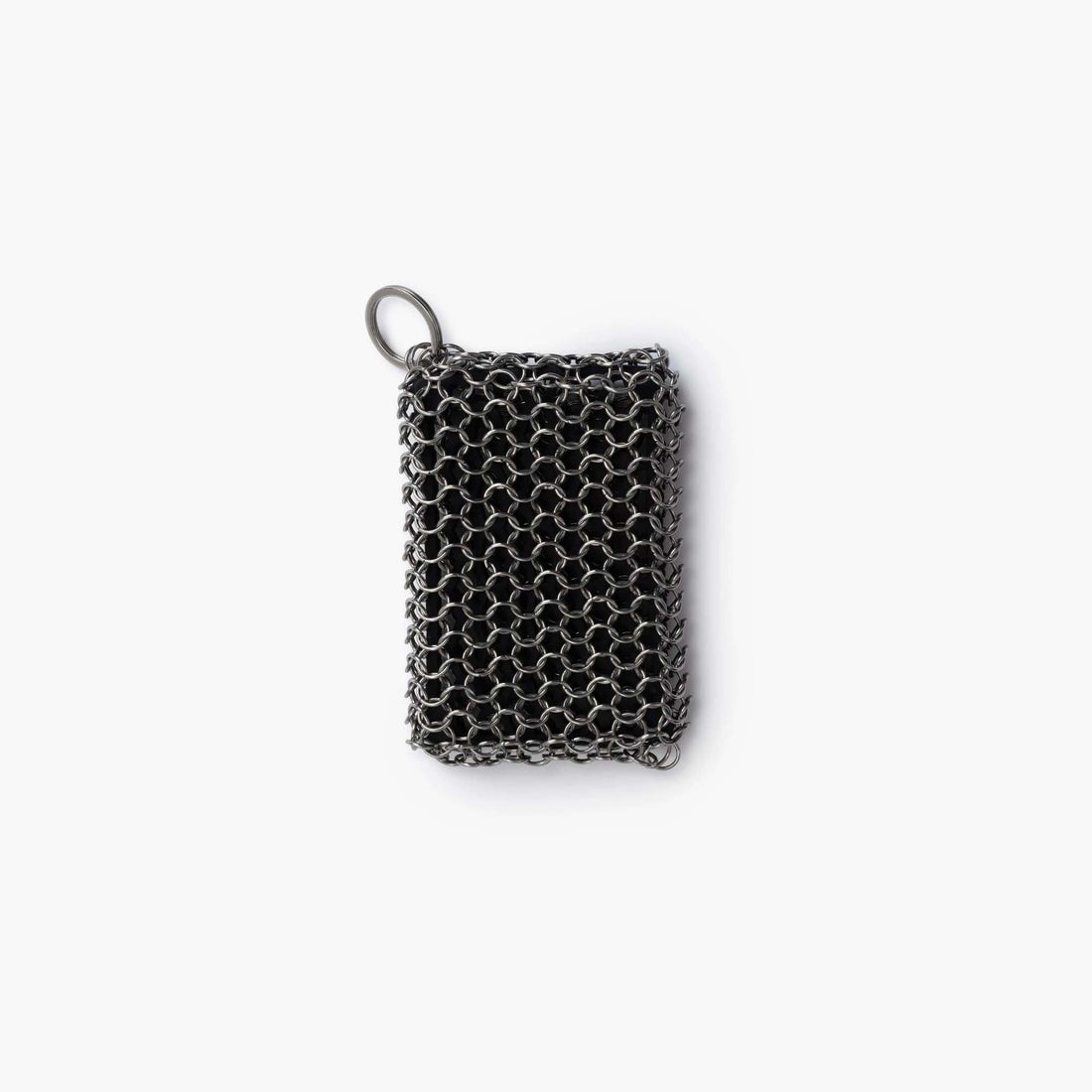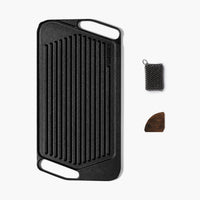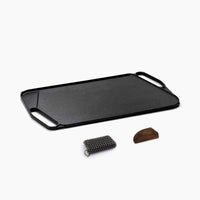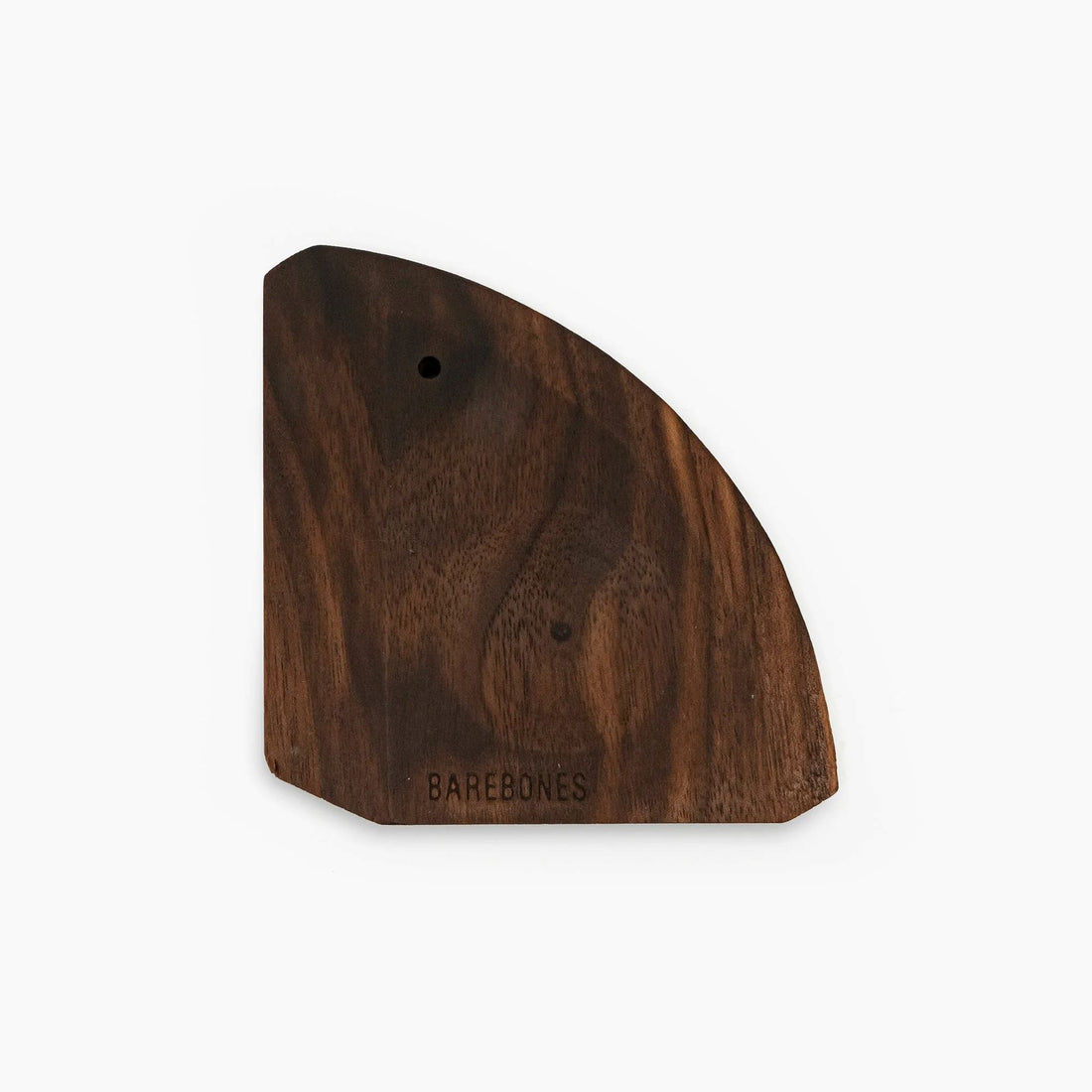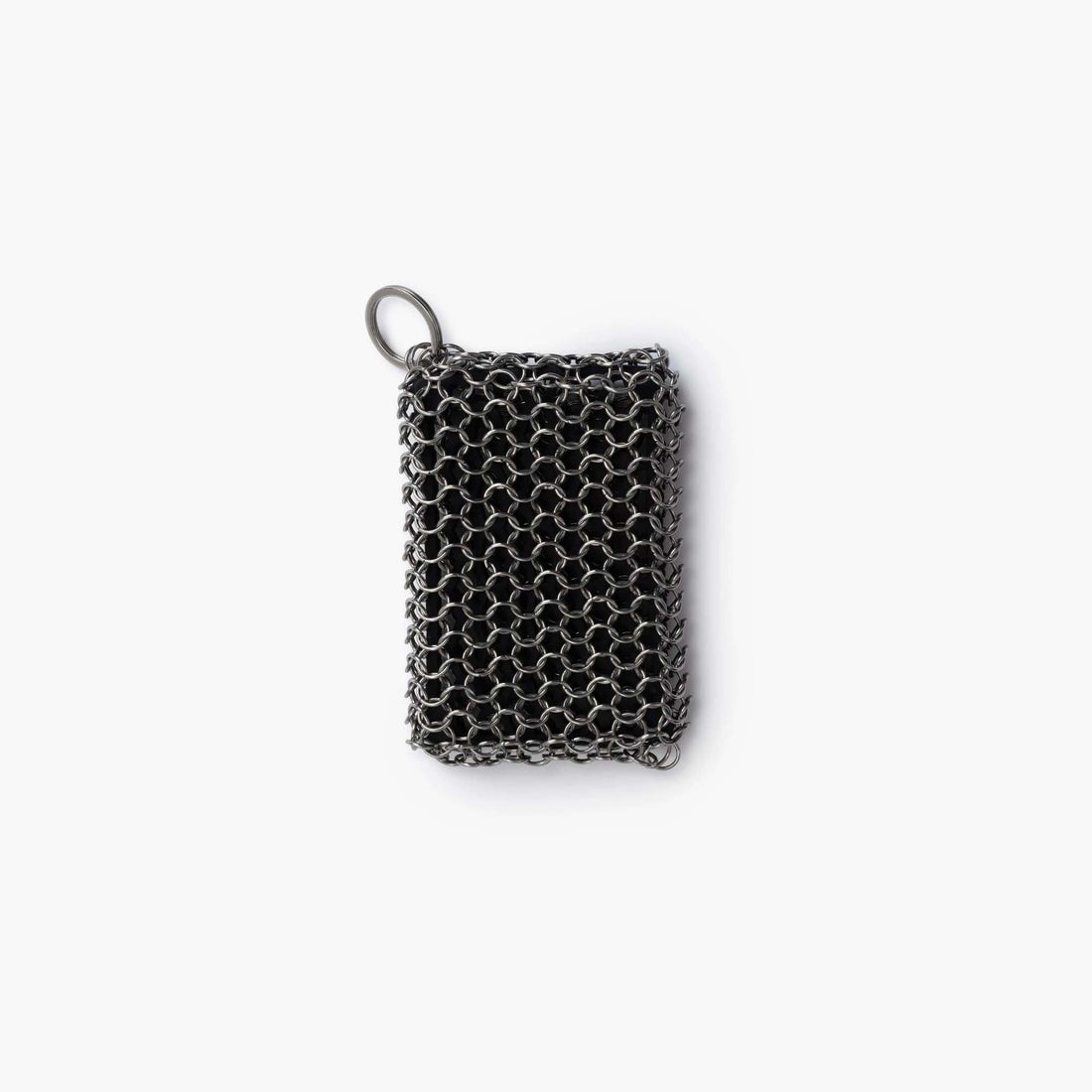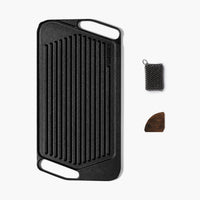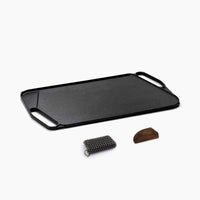 This set is the perfect trio for someone looking to make the switch to cast iron cookware. The Cast Iron Griddle, with its reversible design, offers versatility for cooking everything from eggs to fajitas on one side and grilling burgers and vegetables on the other. Crafted from naturally nonstick cast iron, it ensures even heating for consistently perfect results.
To keep your cast iron pristine, the Stainless Steel Cleaning Mesh Scrubber comes to the rescue. Its textured surface effortlessly removes stubborn food remnants and grease, making it an essential tool for heavy-duty cleaning.
Completing the set is the Cast Iron Wood Scraper in beautiful walnut. This lightweight, ergonomic tool provides multiple cleaning angles with a thumb indent for slip-free support. The scraper can also serve as a stylish set of minimal salad tongs when two are purchased.

Cast Iron Griddle
• 19.5" reversible cooking surface
• One grill side, one flat side
• Wide grease capture channels
• Offset handles for easy handling and storage
• Fits most two-burner camping stoves or use over an open fire
• Crafted for indoor/outdoor use
• Seasoned with sunflower oil

Wood Scraper
• Double-sided bevel scraper
• Made of durable walnut
• Comes polished with mineral oil
• Included hole for hanging with leather strap
• Ergonomic

Stainless Steel Cleaning Mesh Scrubber
• Safely cleans cast iron
• 316 stainless steel
• 10 mm ring size
• Black silicone core
• Dishwasher safe
Items Included:
1 Cast Iron Griddle
1 Cast Iron Wood Scraper - Walnut
1 Stainless Steel Cleaning Mesh Scrubber

Cast Iron Griddle
Materials Iron, steel
Dimensions: 21" x 11" x .75"
Weight: 12.4 lbs

Cast Iron Wood Scraper
Materials: Walnut
Dimensions: 3.9" x 3.9" x 0.5"
Weight: 0.10 lbs

Stainless Steel Cleaning Mesh Scrubber
Materials: 316 stainless steel, silicone
Dimensions: 4.5" x 3" x 1"
Weight: 0.20 lbs

Designed in Utah | Made in China
As a Certified B Corporation, we ensure that our commitment to safe, ethical, and sustainable practices is upheld by each company and artisan that touches our products worldwide, without exception.
Cast Iron Griddle
Hand wash using only hot water, no soap. Use a stainless steel cleaning mesh for scrubbing. Dry thoroughly and lightly coat with your choice of cooking oil. This helps prevent rust and maintains the seasoning for the next use.

Cast Iron Wood Scraper
Wash with warm water and pat dry. Do not submerge or soak in water. Avoid the dishwasher. If contamination occurs, soak in hydrogen peroxide for 3-5 minutes. Rinse with warm water and a sponge.

Mesh Scrubber
Occasionally run mesh scrubber through dishwasher to remove built up grime and oil.
Q: Do I need to season my cast iron before using it?
A: No, our cast iron is pre-seasoned and ready to use.

Q: Can I store my cast iron outside for extended periods of time?
A: This item is not meant to be stored outside for long periods of time. Extended exposure to wet conditions may cause rust and unnecessary wear and tear. We recommend storing your cast iron indoors after use to help it last as long as possible and to avoid the need to purchase a replacement.

Q: How do I remove food stains from my wooden scraper?
A: Food stains can eventually occur after heavy use. Use baking soda and lemon to remove stains naturally. Pour a small amount of baking soda onto the scraper (1 teaspoon), and squeeze enough lemon juice to cover the surface. Swirl together to make a paste and use cloth or fingers to work through the wood. Rinse and repeat if necessary.

Q: How do I use the mesh scrubber?
A: Use your mesh scrubber to effectively clean cast iron without soap. Wet pan, and scrub in a circular motion until stuck on food and oil is removed. Rinse with water.

Note: not recommended for cleaning delicate, softer materials such as wood.

Q: How do I properly clean and maintain my mesh scrubber?
A: Wash mesh scrubber with kitchen soap and water to remove built-up dirt and grime. Mesh scrubber can also safely be run through the dishwasher. Keep dry when not in use.
We Stand Behind Our Products
Barebones stands behind the quality of all of our products. Each item we make is meticulously thought out in-house by our team of passionate designers. We sell these products because we love them, we use them, and we want you to enjoy them too. They are meant to elevate your outdoor experience and withstand all normal rugged wear and tear.

We also consciously work with manufacturers that exceed our standards for excellence and safety. If you are not 100% satisfied with your order you are always welcome to use our 30 day return policy or let us know how we can make them better.