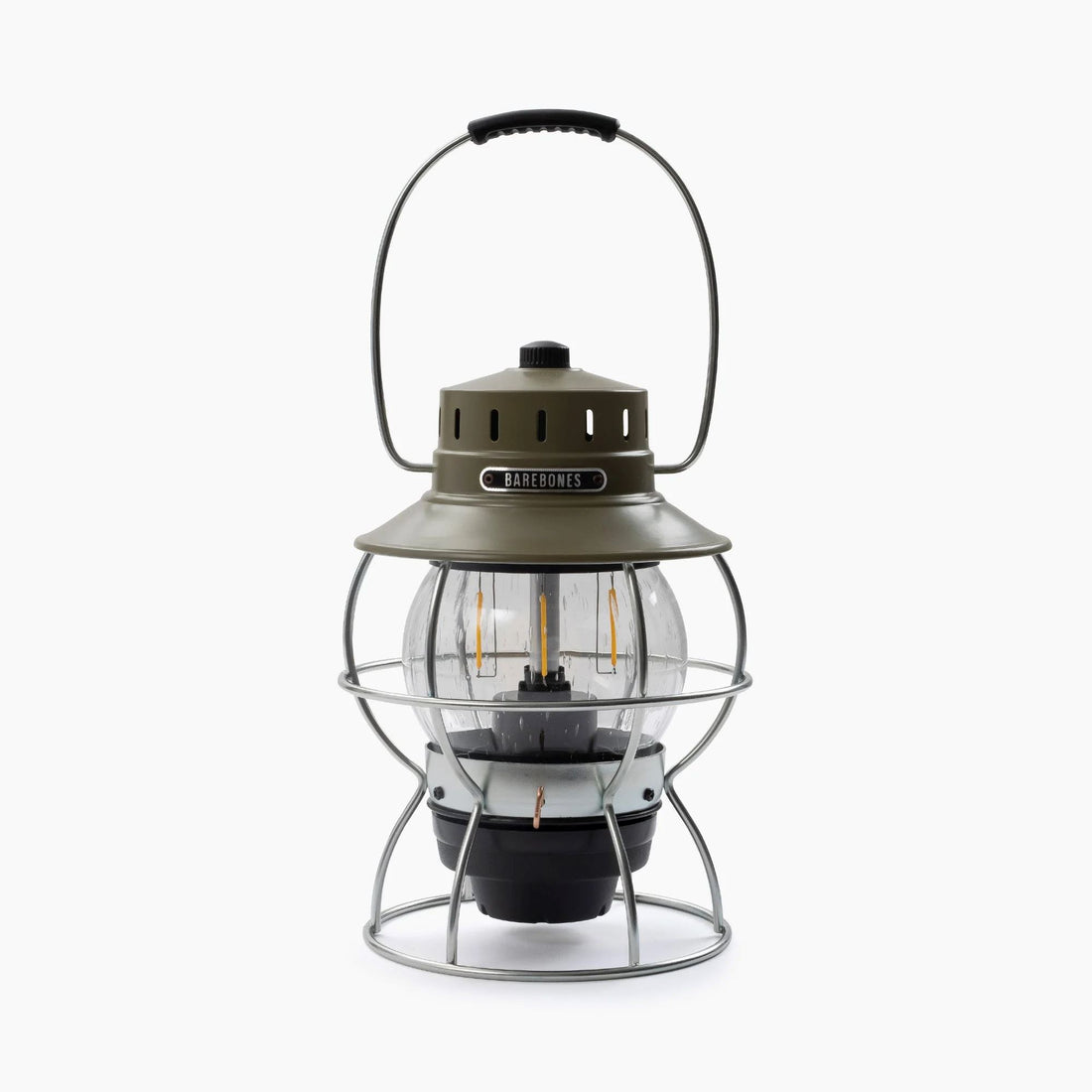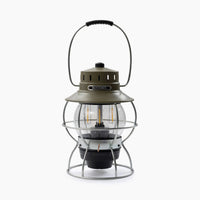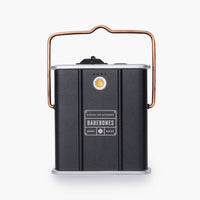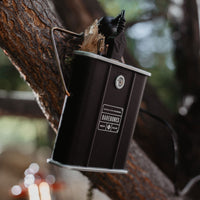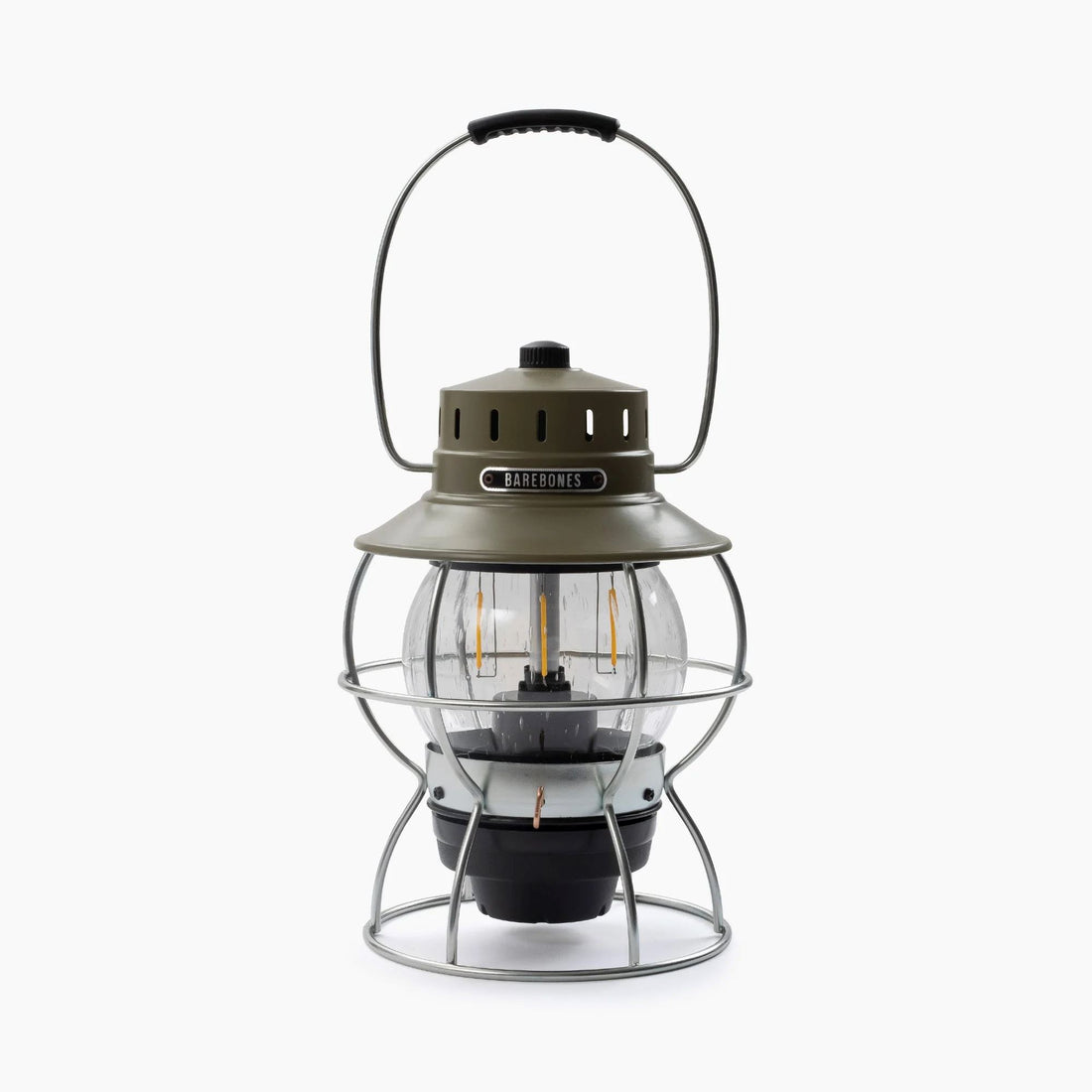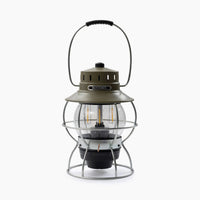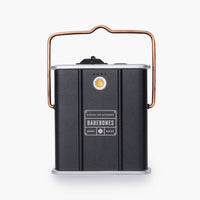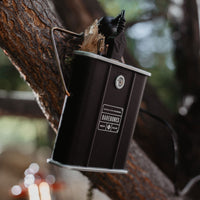 Olive Drab Railroad Lantern Collection
Never be left in the dark with the Railroad Lantern Travel kit. This package starts with our top-selling Railroad Lantern, a contemporary take on a beloved Union Pacific classic. Its seeded glass and copper accents add a unique touch to any dinner table or campsite. Powered by batteries or USB, it offers up to 100+ hours of low brightness or 3.5 hours on high, featuring an adjustable LED Edison-style bulb for a warm, timeless glow.
The Zippered Lantern Bag keeps your lantern protected and portable. Although it was designed for our Railroad and Forest Lanterns, it can also be used as a versatile camp gear store-all. With a zippered top, padded walls, and cotton canvas, it keeps your gear dry and secure. The polyurethane bottom ensures stability, and an internal mesh pocket stores delicate items.
And for uninterrupted lighting on your travels, our 10,000 mAh Power Bank in matte black seamlessly complements our vintage-inspired lights. It boasts a mixed-metal design, copper wire handle, and built-in magnets for easy hanging. With USB-A and USB-C outputs, an LED flashlight, and USB-C charging cable, this power bank is ideal for glamping, backyard get-togethers, or emergencies. With a recharge time of just 4.5 hours, it can provide up to 10 hours of power. Illuminate your adventures and keep your lanterns shining bright with this all-in-one package.
Railroad Lantern
• Metal construction with replaceable seeded glass globe
• Adjustable brightness LED Edison-style bulb
• Carry handle with unique copper, matte black, or white zinc finish cage details
• 3.2 Watt warm Edison-style LED filament
• Color Temperature: 3000k
• Lumens: Low: 35 High: 200
• Input: 5V USB
• Battery: Li-ion Battery 2-18650 | 4400mAh 3.7V 16.28Wh (Barebones specific)
• Run Time: Low: 100+ Hrs | High: 3.5 Hrs
• Built-in charging system (USB-C cable Included)

Power Bank 10,000 mAh
• Vintage-inspired apothecary design
• Use to power/recharge Barebones lighting products, phones, or any compatible electronic device.
• USB-A and USB-C output
• Included USB-C charging cable
• Capacity: 3.6V, 10,000 mAh 36Wh
• USB-A Output: 5.0V-2.4A 9V-2.0A MAX 12V-1.5 MAX
• USB-C Output: 5.0V-3.0A 9V-2.0A MAX 12V-1.5 MAX
• Charge Time: ~4h at 3A | ~6h at 2A | ~12h at 1A
• LED Type: 1.5W LED
• Light Spectrum: 3000K
• Lumens: HIGH: 100lm | LOW: 20lm

Zippered Lantern Storage Bag
• Utility-inspired multi-use design
• Durable polyurethane base
• Zippered lid stores items securely
• Lid pocket stores wires and accessories
Items Included:
1 Railroad Lantern - Olive Darb
1 Power Bank 10,000 mAh - Black
1 Zippered Lantern Storage Bag
1 Li-ion Battery 2-18650 | 4400mAh 3.7V 16.28Wh
2 USB-A to USB-C cable

Railroad Lantern
Materials: Metal, glass
Dimensions: 6.50" x 6.50" x 9.50"
Weight: 2.00 lbs

Power Bank 10,000 mAh
Materials: Aluminum, stainless steel, ABS plastic, 18650 battery (4)
Dimensions: 4.75" x 4" x 1.13"
Weight: 0.60 lbs

Zippered Lantern Storage Bag
Materials: 6 oz cotton canvas, leather accents, textured polyurethane base
Dimensions: 8" x 8" x 9.5"
Capacity: 6L
Weight: 0.6 lbs

As a Certified B Corporation, we ensure that our commitment to safe, ethical, and sustainable practices is upheld by each company and artisan that touches our products worldwide, without exception.
Store in a cool, dry place when not in use. To clean, simply wipe down with a damp cloth.
Q: How do I install the Railroad Lantern battery?
A: For optimal performance charge battery fully before use.
Step 1: Turn the lower housing counterclockwise to unlock and expose the battery slot.
Step 2: Hold the lantern upside down and insert the battery top down into the battery slot. The top of the battery is marked with a "+" icon.
Step 3: Reattach the lower housing by pressing down, and turning clockwise until it locks.

Q: Should I remove the plastic covering on the included battery?
A: No. The plastic covering is a safety mechanism. Do not remove the plastic battery cover before inserting the battery into the railroad lantern.

Q: How many hours does the 10,000 mAh Power Bank last?
A: If your device draws 1 mA, then the 10,000 mAh battery can last for 10 hours. If your device uses 10,000 mA, then the battery may only last for one hour.

Q: Can Barebones products be stored outside for extended periods of time?
A: Barebones products are not meant to be stored outside for long periods of time. Extended exposure to wet conditions can lead to rust and unwanted wear and tear. For optimal longevity and to prevent the need for replacement, we recommend storing your products indoors after each use.
Tag @barebonesliving to share your Olive Drab Railroad Lantern Collection adventures.
We Stand Behind Our Products
Barebones stands behind the quality of all of our products. Each item we make is meticulously thought out in-house by our team of passionate designers. We sell these products because we love them, we use them, and we want you to enjoy them too. They are meant to elevate your outdoor experience and withstand all normal rugged wear and tear.

We also consciously work with manufacturers that exceed our standards for excellence and safety. If you are not 100% satisfied with your order you are always welcome to use our 30 day return policy or let us know how we can make them better.